The note-taking application Evernote has a way to create an area where you can keep things that you want to share with others. The function is called Spaces, and it sort of like a crude project space and file manager. One of my Spaces is called Goals. Inside my goals Space, I have different notebooks for each of my goals. Inside each of those notebooks, I have a spreadsheet where I keep score on my goals.
I have a sheet for my physical goals, and each morning, I track my weight, body fat, time spent walking or running, and exercises. I create a sense of accountability to the goal my having to enter the metric daily. I also have to look at the numbers.
I have another sheet for my financial goals. Just writing this brings to mind how much better it might be to consolidate the spreadsheets, but now each one stands on its own. Capturing the result of my disciplines, the things you without fail to produce a result (or goal), creates and adherence to the discipline. Seeing the results, good or bad, is motivating.
You Can't Hide From You
I have long argued that sales managers with dashboards are reducing their team's accountability. It's one thing to know your sales manager is looking at numbers, and it's something different to have to report those results out loud. If you did nothing in the prior week, having to say it in a meeting would cause a good bit of discomfort.
The last person you want to hide from is yourself. Not looking at something that needs attention doesn't do anything to improve it. Problems don't age well, and tiny monsters grow up to be giant monsters. You want to dispatch them as soon as possible—and before they do real damage.
If you have a goal, you have a gap between your current state and your desired future state. You may not have ever looked at goals through that particular lens before now. But looking at goals this way allows you to think about what you need to do to close that gap. It also allows you to do two things: 1) Measure your progress, and 2) Define the disciplines it will take to produce that result.
The Power of Adherence
When I turn on my laptop, Evernote launches automatically. I open several spreadsheets and record some data points. I remind myself of my goals and the disciplines it takes to produce them. I also look to see how I am tracking towards them.
What one human being can do, another human being can also do. What one human being is willing to do, many others are unwilling to do.
The human beings that are right now producing some result that you want are creating it because they adhere to a set of disciplines that produce that result. They consistently do what is necessary for that goal or outcome. Provided your strategies are effective, if you consistently invest enough time and energy in removing some obstacle, the obstacle will eventually yield.
If you want some result you are not producing now, it is likely you know what to do to have it, but that you are not adhering to the necessary disciplines.
The first publisher that considered my first book, The Only Sales Guide You'll Ever Need, called me to share his thoughts, he said: "Why on Earth would you start a sales book with self-discipline when everyone hates that? And what does caring have to do with sales?" It was a short conversation.Learn Anthony's core strategies & tactics for sales success at any level with The Only Sales Guide You'll Ever Need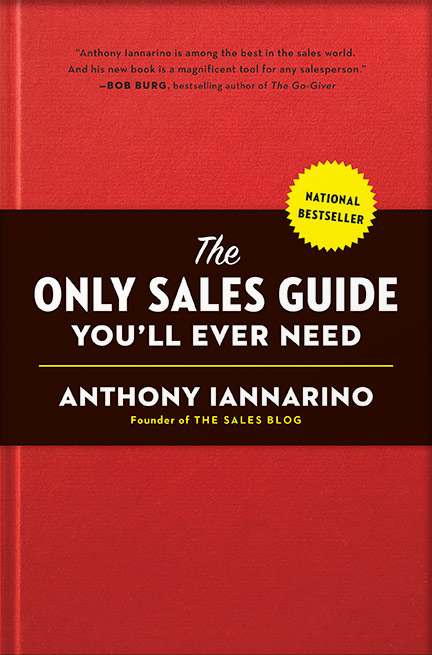 Keep Your Scorecard
Reality is going to produce a scorecard for you in the way of specific outcomes. To make sure you have the results you want, you can start by holding yourself accountable for adhering to the disciplines that produce those outcomes.
My best advice is to do what you perceive to be the worst thing you need to do first each day when your energy and psychic RAM is at its peak. By doing so, you will eliminate your tendency to procrastinate and rationalize not doing what you know you need to do.