The Ultimate Guide to Prospecting Sales
The great thing about sales is you create your own opportunities.
The downside of sales is… you create your own opportunities.
When you don't have strong prospecting practices, techniques, habits, and tools in place, filling your sales pipeline can feel as impossible as trying to wave a magic wand and conjure new leads out of thin air. But prospecting sales doesn't have to make you tear your hair out. When you have a blueprint for success, prospecting becomes a smooth, frictionless process that has your pipeline full to bursting.
Don't have a blueprint like that just yet? No worries. This guide will help you understand everything you need to know about prospecting sales, from the basics to the nitty-gritty steps to take to build the perfect prospecting plan. By the time you finish reading this guide, you'll have everything you need to start booking meetings 24/7…no magic wand required.
What is Sales Prospecting?
Prospects are any potential customers. Sales prospecting is the process of creating opportunities and building a consistent sales pipeline. When prospecting sales, you find and connect with potential customers. Getting prospecting right makes the whole sales process much smoother.
Regardless of your level of sales experience or seniority, your sales prospecting skills are always something you can improve—and when you improve your prospecting skills, you'll see tangible results throughout the rest of your sales pipeline.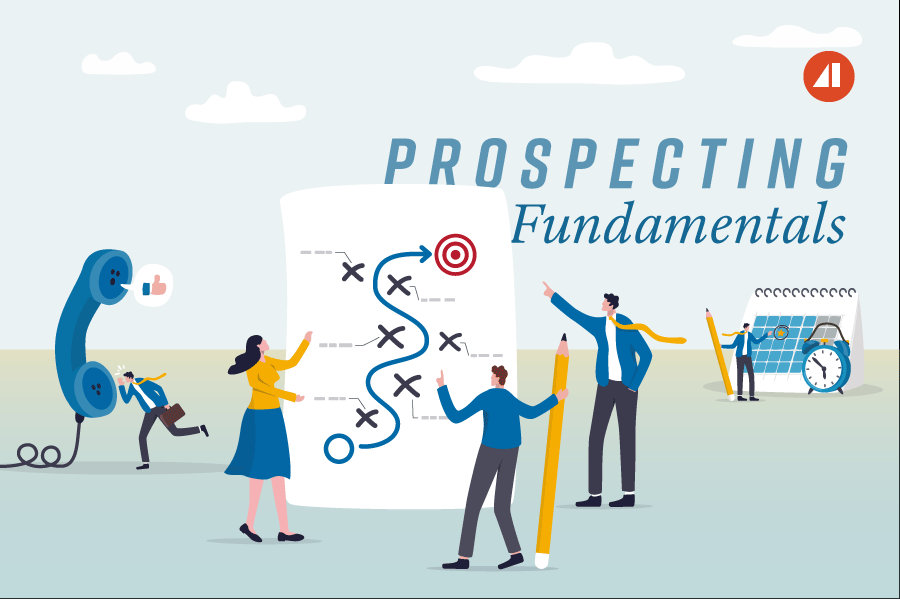 Fundamentals of Sales Prospecting
To begin prospecting sales more effectively, you will need to understand the five fundamentals of sales prospecting. Let's discuss those five fundamentals in more detail:
Consistency:
If your prospecting efforts are undisciplined and sporadic it will be difficult for you to succeed in sales. If you take the time to prospect consistently, you'll get better results. In our experience, ninety minutes a day is normally enough for an enterprise salesperson to meet their goals.


Distraction-Free Time:
When prospecting, you need to ensure you remove any distractions that might cause you to lose focus or interrupt your flow. Turn off your smartphone notifications, close your browser, and close the door to your workspace. These measures will improve your focus and make it easier to better converse with your prospects without being distracted.


Multiple Mediums:
Limiting yourself to a single prospecting medium is a common mistake. Some prospects may have the same preferred medium as you, but others will prefer other modes of communication. While all the mediums work at some level, I recommend using the telephone first. You should use the phone first because it actually allows you to talk to your client when you ask for a meeting. Email, Linked, video message, voicemail, text messaging, and even snail mail can also be effective prospecting channels.


Outcome-Focused Mindset:
When you're prospecting, your single desired outcome should be to acquire a meeting. During prospecting, you'll want to limit the conversation, avoiding doing anything that may prevent you from getting a meeting with your dream client. If you dive into discovery too quickly, you make it easier for your prospect to disqualify you and your request for a meeting. You are better off keeping the first call short and simply asking for a meeting, promising your prospective client you will answer all their questions during that second call.


Relationship Nurturing:
The best salespeople recognize that every interaction with a prospect can move them closer or farther away from a meeting. If you believe this, you'll treat every outreach as a chance to nurture your relationship with your prospect. The type of salesperson with this mindset plays the long game, knowing it might take time to acquire a meeting, and build the trust that will eventually allow the client to agree to a meeting.


Prospecting Positioning
When prospecting sales, you need to ask yourself an important question: Are you prospecting from a place of strength, or a place of weakness? Prospecting from a place of weakness occurs when you have just lost an opportunity or when you are down on your luck in general. When prospecting from a place of weakness, you will find you have more trouble booking meetings or succeeding in your prospecting endeavors.
On the other hand, when you prospect from a place of strength, you are able to project confidence into your calls and prospecting efforts. Without the urgency and desperation associated with prospecting from a place of weakness, you're able to acquire more meetings because you're more likely to sound like a person capable of helping your contact achieve the results they want.
How can you ensure you are always prospecting from a place of strength instead of a place of weakness? Simple: Never take your foot off the prospecting gas.
When you are doing well and have a number of large clients, you may be tempted to sit back and abandon your prospecting efforts for a while. This is a mistake. As the saying goes, you have to dig your well before you get thirsty.
Continuously prospecting using the tips you'll learn in this guide will help you ensure you are always prospecting from a place of strength.
Building a Sales Prospecting Plan
To fill your sales pipeline, you'll need to build a strong sales prospecting plan. A sales prospecting plan is a series of processes that help you and your team identify decision-makers and businesses. In other words, your sales prospecting plan is your game plan for identifying prospects who are likely to become customers.
The next question I need to answer is, do you really need a plan for prospecting sales? You may have guessed our answer already: Absolutely.
Though identifying potential customers is the heart of many sales processes, without a plan to unify and organize your efforts, you and your team may end up rushing your sales process, targeting poor-fit customers, and more.
Prospecting with the help of a cohesive plan helps you ensure you don't waste time or energy. In other words, when you prospect with a plan, you'll see a more significant return on your time investment.
Prospecting Sequence Parts
A winning prospecting sequence consists of five parts. Territory management, contact management, prospect insights, time management, and a nurturing toolkit are all essential elements of your prospecting sequence. Let's examine each in a bit more detail:
Territory Management:
To prospect sales effectively, you'll need to understand the territory you're prospecting within. Begin by identifying all the major prospects in your territory. The most valuable clients in your territory will likely already have a supplier. Identifying their current supplier will help you identify the competitors you need to displace. Once you have a list of the companies that are known buyers, you can evaluate the other companies you suspect might buy what you sell.


Contact Management:
After you have mapped out your territory, begin identifying the contacts you want to target at each prospective client. You'll need to obtain contact information like phone number, email, physical office location, and LinkedIn URL. Make sure to use a CRM to manage and organize all this information. Every company may use different job titles for positions with similar functions, so identifying the decision-maker may be tricky, but over time you'll discover titles most likely to get you close to the decision-maker internally.


Prospect Insights:
The third piece you'll need to ensure you include in your prospecting sequence is insights from your prior prospecting efforts. Your first meeting with a prospective client is your first chance to encourage them to understand why they may need a change. You are an educator. As a consultative salesperson, you have to know more than your client when it comes to improving their results, including why, when, and how they need to change to improve their business. Organizing and building on insights over time will help your prospecting efforts improve as you continue to move through your prospecting sequence.


Time Management:
When it comes to prospecting, calendar blocking will become your best friend. Ensure you are blocking out time segments to dedicate to prospecting with no outside distractions. Prospecting is at the heart of your sales process, and it deserves your undivided attention.


Nurturing Toolkit:
Nurturing prospects is an essential part of your sales process. When you offer value without asking for anything directly in return, you are focusing on your nurturing efforts. You can use several tools for nurturing efforts, but here are

fourteen tools

you can use to start. A few of the tools listed include:
Phone & Voicemail
Email
Value Proposition
Experience/Lessons Learned
Company Blog
Case Studies
Prospecting Plan Steps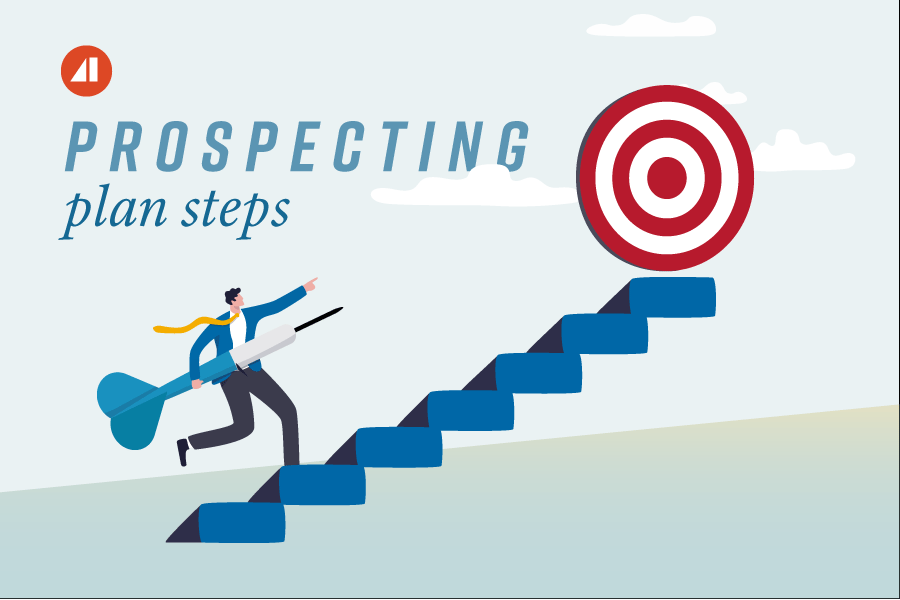 Once you have established all the key elements of your prospecting plan, you can begin considering how to build your sales prospecting plan. Every sales leader should incorporate the following six steps into their sales prospecting plan to achieve maximum results.
Define Buyer Personas:
Buyer personas are profiles of ideal-fit customers built using real data. Beginning your plan by defining buyer personas will help you to determine best-fit and poor-fit customers. This process allows you to avoid wasting time by pursuing companies and contacts who won't truly benefit from what you're selling.


Determine Key Info:
Once you've determined your buyer personas, you will want to turn your attention to the target industry. Seek out key information about the client's industry: Trends, pain points, and common concerns are great places to start. Learn their current priorities, then determine how you can help them avoid threats or solve problems they're facing.


Set Objectives:
You'll never know if your sales prospecting plan is effective if you don't set goals for yourself. How many meetings do you want to book? Examine company KPIs and your sales cycles to set realistic targets for your prospecting efforts.


Determine Contact Mediums:
Armed with the information and goals you've established in steps 1-3, it's time to begin preparing to contact your prospects. Before you reach out, you'll need to determine what medium you want to use for your prospecting efforts. Refer to your buyer personas: How do they like to be reached? Use multiple channels to increase engagement.


Write a Tailored Script:
Good selling is built on good language. If you want to prospect effectively, you need to ensure you and your team are always armed with the right language to advance the sale. You can achieve this by scripting your conversations. Create a script tailored to your target prospects, then role-play and rehearse those scripts. Try to anticipate objections and prepare for common questions. If you need help developing your perfect script, check out the Talk Tracks in our

Sales Accelerator

program!


Get Started!
The last step here is to get started! Stop over-researching, stop hesitating, and stop dragging your feet. Begin prospecting with confidence!

Building a Habit for Prospecting Sales
As you know, prospecting sales is not a "one-and-done" process. Prospecting shouldn't be something you do only when you've lost a client or when you're told to by leadership. Sales prospecting should be a part of your standard process, regardless of other factors influencing your sales.
Why has prospecting fallen by the wayside? There are a few reasons. First, sales managers have not held their salespeople accountable for prospecting. Second, is the concept I sometimes hear referred to as "social selling." Posters on LinkedIn spread the message that cold calling was dead, replaced by inbound efforts.
Cold calling is very much alive, as are other traditional forms of sales prospecting. To successfully fill your sales pipeline, you and your team must build a prospecting habit. You can build this habit using five simple steps:
Make Prospecting a Priority
Selling is made up of opportunity creation and opportunity capture. To capture opportunities, you need to create them. Because Opportunity Creation is the critical first step in sales results, it has to be your primary focus. Prospecting has to dominate your time and your energy.


Block Time for Prospecting
Prospecting is like any other task: If you don't make time for it, it won't get done. The best way to ensure you have time to prospect is to block time on your calendar. The more time you spend prospecting, the more opportunities you will be able to create and then capture. Blocking time to prospect on your calendar is a commitment you make to yourself—and your future self.


Get Past the First 10 Calls
The first cold call you make is always the hardest. That doesn't mean the second call is much easier, but they do get easier once you get into your rhythm. In our experience, you'll hit that rhythm about ten calls in—eight of which will be voice mail. You'll hit your stride by call eleven, but you can't get there if you don't keep dialing.


Use a Prospecting Cadence
The phone is the most effective medium for scheduling appointments, but it isn't the only one. You'll want to use a prospecting cadence that incorporates multiple mediums. A good rule of thumb is to use mediums like LinkedIn and email to share helpful information and provide value to your prospect, and only pitch over the phone. A cadence keeps your activity high and focused, improving your results.


Keep Score
Most salespeople are competitive—use this to your advantage by keeping score. Track how much time you spend on the phone pursuing meetings, how many dials you make, how many meetings you book—whatever metrics make sense for your goals and your team's goals. By keeping score, you hold yourself accountable. If you want success, hold yourself accountable for your results so no one else will ever have to.
Top 4 Techniques & Strategies for Prospecting Sales
Armed with the sales prospecting plan steps outlined above, you may believe you're ready to pound the pavement, but before you can achieve maximum results with your prospecting efforts, you'll need prospecting strategies and techniques to guide your efforts.
Sales prospecting is a blend of art and science: The art of the conversation mixed with the science of strategy and data. Let's go over four killer sales prospecting techniques and strategies you can use to ensure your prospecting efforts have maximum impact.
Prioritizing Prospects
You may want to contact every single prospective client in your territory. The problem is you can't contact them all at the same time. You need to prioritize. You can use a few different strategies when it comes to prospect prioritization
The first strategy is to target your dream clients. Define your targets and determine which companies are likely to recognize and crave the value you can create for them. Prospects that fit this description should always be at the top of your list.
Another strategy is to focus on warm prospects. Though hot leads may seem more appealing, you shouldn't discount warm prospects. In short, hot leads are obviously appealing but don't underestimate the value of warm prospects.
That's not to say you should ignore cold prospects altogether, though. Cold calling is an essential part of any sales prospecting plan.
Focus on Value
Regardless of which prospects you prioritize, it's essential that you're offering value in every contact and conversation The second technique we'll discuss is the importance of trading value in your prospecting efforts.
The very best approach booking a meeting is to start with the idea that you need to be able to create value for your client in that meeting–whether or not they buy from you. To book a meeting, you need to show your prospect that meeting with you will provide value for them and their organization.
When you focus on providing value to your prospects, you communicate you are someone worth meeting with because doing so will help your dream clients improve their results.
Follow a Sales Script
If you want to achieve any success with your prospecting efforts, having the right language is key. It's important to work off of a proven, practiced sales script.
How can you create the perfect sales script for your prospecting plan?

For starters, you should never open a call with the question, "Is now a good time," or "Is now a bad time." You also should never open a call with "Do you have twenty-seven seconds?" Instead, you'll want to build your script to be clear, concise, and provide immediate value.
One example you may want to try out is:
"Good morning. This is Anthony Iannarino with XYZ Widgets. I am calling you today to ask you for a twenty-minute meeting where I can share with you an executive briefing about four trends that will have the most significant impact on manufacturers in the next eighteen to twenty-four months."
For more help with sales scripts, explore the Talk Tracks in our Sales Accelerator!
Embrace Automation
A word of caution regarding this technique: I should perhaps rephrase the header to "Embrace Automation… With Caution."
Too many salespeople believe they should automate all of their prospecting. This has caused an increase in automated messaging that has caused prospects to stop opening or replying to emails or connections on LinkedIn.
In short, there is smart prospecting automation and not-so-smart automation. The distinction is the difference in the outcome you are pursuing. If you want to rid yourself of having to prospect at all, then automation is not so smart.
However, you can automate all types of what I might call "transactional" communications, like confirming appointments, sending a standard agenda, and providing documents and insights that will help prepare your client for a meeting.
Some key areas you can safely embrace automation in your prospecting method include:
Google Alerts re: target industries or dream clients
Tracking news stories and trigger events
Calendar alerts
In short, any process that helps you determine when to call your dream client but does not replace calling your dream client is something you may want to explore automating.
Tools for Prospecting Sales
Without the right tools, you'll have a hard time doing any job. Sales prospecting is no different. Prospecting is already difficult enough: Why hamstring yourself by not utilizing the right tools you need to succeed?
Of course, to get the maximum benefit from the tools in this list, you'll need to know how to use them effectively. Sales training is the best way to get yourself and your team prepared to use the tools at your disposal to prospect effectively. I know a thing or two about sales training. Check out our Sales Accelerator for effective, high-impact online sales training to level up your team's prospecting skills and fill your sales pipeline.
Let's get into my top five list for sales prospecting tools.
You can use Mattermark to monitor changes in your prospects' business, identify key decision-makers, and more. This software starts at $49 per user per month
One benefit of Mattermark in its Salesforce integrations. You can also create customized notifications to stay up-to-date on key contacts and companies. This tool recently spun off from its original parent company, so there aren't many reviews online just yet, but the functionality looks promising.
In short, I like Mattermark because good data prevents you from wasting time hunting for phone numbers or contacts.
Overloop is primarily an email lookup tool. You can install an extension in your browser to help you find and save contact email information while simultaneously verifying email information. Overloop is priced at $89 per month with $44 per additional user.
Overloop's integrations with Salesforce and HubSpot Sales help it make the list. Also, it beats out the other email finder tools because it includes automation features, live chat features, and more.
According to one reviewer, "Overloop truly helps you solve problems such as prospecting corporate emails. As a new agency or freelancer, it is hard to get in touch with stakeholders or decision-makers. Overloop really is god-sent." -G2 Reviewer
Owler's community database is filled with company information. You can find companies' social media accounts, trends, and other data in this tool. Owler is a free tool, though you can upgrade to a paid plan for $420/year.
Owler's "free" status is one reason why it makes my list. It has a lot of the same functionality as other tracking tools like Mattermark, but if you're on a tight budget, the free version may work for you.
Being able to pull contacts off LinkedIn is helpful for those of us who hate repetitive administrative work.
According to one reviewer, "Owler allows you to see competitors of any company. For prospecting purposes, this is extremely helpful as all I need is the name of a company we've had success with, and I'll find several more. They offer other beneficial information that helps my prospecting, such as news about the company, revenue, CEO name, and whether they're part of another company. It provides me with nearly all the information I need to find the best companies to prospect. Absolutely one of my top tools. Good price and customer success is always quick to reply to my questions. Easy to use." -G2 Reviewer


HubSpot provides a whole slew of features. HubSpot Sales handles email management, tracking, automation, and more. It's priced at $400/month.
HubSpot makes my list because integration is the name of the game, and HubSpot integrates almost all the sales functionality you need in one tool.
This is the CRM that I use in my businesses. It takes a little front-end effort to get it up and running, but the prospecting sequences you'll end up with are worth the effort.
One reviewer says, "HubSpot lets you track emails to see when a prospect is opening it, see who is doing what for a little friendly competition, and create templates that make it easier to send emails in a volume while still being able to make changes to keep them personalized. You can also set up notifications to keep a closer eye on specific initiatives (calls, emails, etc.)." -G2 Reviewer
You can use Leadfeeder to see companies who visit your website, even if they do not fill out a form or provide their data. Leadfeeder is priced at $79 per month.
Leadfeeder makes my list because of the way it integrates inbound prospecting with outbound prospecting. Using a tool like Leadfeeder helps you customize your outreach strategy based on the time the prospect has spent on your website, the pages they've visited, etc.
After all, we're not the only ones looking at our clients—and they have been looking back. The fact they are lurking on your website means it's time to reach out and see how you might help.
According to one reviewer, "It's simple and effective, and it doesn't overcomplicate the process of tracking companies coming to our website. Its out of the box connections with Slack and HubSpot makes things a million easier as well, to the point the adoption of the tool was a breeze." -G2 Reviewer
Sales Prospecting Pitfalls to Avoid
When prospecting sales, you'll want to follow a plan and use modern sales strategies, but you'll also need to be aware of salespeople's common pitfalls. Being aware of these pitfalls will help you and your team avoid them!
The first step to avoiding pitfalls in sales prospecting is to improve your prospecting skills whenever and wherever possible. A few ways to improve these skills include:
Nurturing Relationships:
Some of the best relationships and the biggest deals will take the longest time to win, and your consistent nurturing of these relationships will open opportunities for you over time. Your persistence proves to your prospects that you will not fade away like so many of your peers. It shows genuine interest in them and demonstrates your commitment to working with them.


Shaking your Fear of Cold Calling:
Cold calling can be intimidating, but you should never let it fall to the wayside. If you do it regularly, you'll find that it offers the greatest return on investment. And the more you do it, the better you will become.


Focusing on the Outcome:
Effectiveness in prospecting improves by focusing solely on that outcome. Don't allow your prospecting to turn into a needs analysis, presentation, or discussion about the merits of your product or your business offerings. Maintain a laser-like focus on simply scheduling the appointment.


Using Multiple Mediums:
Make a list of all of the mediums you can think of that are used to prospect. Plan how much time you will set aside for each medium and set goals for how many prospects you want to gain from your effort.
Now, let's dive into the top three pitfalls Isee in sales prospecting efforts—and how to avoid them.
Pitfall 1: Lazy Prospecting
The first pitfall you'll want to avoid is the pitfall of lazy prospecting. The biggest indicator of lazy prospecting is skipping steps and necessary conversations. If you're contacting prospects without doing the necessary research, using the connect-and-pitch model, or spamming people on LinkedIn, you're not going to find success in your prospecting efforts.
Using these lazy prospecting methods will only serve to make you seem like you have no integrity and do not care about your prospect. Additionally, you will give a bad name to all salespeople.
A prospecting sequence should be measured, targeted, and strategic. If you're rushing to the finish line before you've earned the sale, you're being lazy, and your prospecting efforts will not succeed.
Pitfall 2: Over-Aggressive Prospecting
Similar to lazy prospecting, Ihave over-aggressive prospecting. Over-aggressive, high-pressure tactics you'll want to avoid include being a steamroller, talking over your prospect, overselling, and more.
When you're being too pushy and aggressive, you won't appear confident—you'll appear sloppy and condescending. Prospects hate this type of sales approach so much that there is even a name for it: commission-breath.
Avoid over-aggressive prospecting by listening more than you speak, taking the time to nurture your prospects, and offering value first before asking for a meeting.
Pitfall 3: Passive Prospecting
The last pitfall of prospecting is the pitfall of passive prospecting. On the opposite side of the spectrum from the second pitfall, passive prospecting occurs when you rely too heavily on automated processes to do your prospecting for you.
If you find yourself tempted to blast out impersonal, automated emails with a Calendly link in the signature, remember: No one owes you a meeting. To earn a meeting, you need to demonstrate that you can provide value to your prospects. An automated message will not only show your prospects that you don't care about their needs or goals; it will make you appear entitled and show that you have no idea how to prospect effectively.
To avoid this pitfall, embrace the human side of sales! Focus on making a real connection with your leads during the prospecting process and you can avoid the risk of passive prospecting with ease.


Using the Ultimate Guide for Prospecting Sales
Prospecting sales is somewhere between an art and a science. That combination can make it feel overwhelming, but it doesn't have to be. With the right mindset, skills, and tools, you can tackle your prospecting tasks confidently.
Building the mindset and skills required to make this shift takes time. However, with the right roadmap to guide you, you can speed up your team's learning process to start crushing the prospecting process and closing more deals. Our Prospecting Playbook can be that roadmap for your team.
My Prospecting Playbook takes you through every step of the prospecting and sales journey, from setting accountability and cadence goals all the way to negotiation mastery. To see how adopting this modern sales approach can level up your prospecting processes, get the Prospecting Playbook today!