Ah yes, the scripted sales call from an unknown number. The discomfort is palpable: you can hear the salesperson's lack of confidence in their voice, that undertone of defeat stemming from hearing "no" 50 times already this shift. It's almost enough to motivate a pity purchase—almost.Without the right sales script and strategic language, sales will always feel like an uphill battle. But if you can use sales scripts confidently while addressing objections, negotiating, upselling, cross-selling, and getting referrals…now that's a game-changer!
If you're looking for better results from your sales scripts, you're in the right place. Let's review five sales script examples that will help take your sales conversations to the next level.
5 Sales Script Examples To Recreate Today
No salesperson wants to sound scripted, but every salesperson wants the right words for the sales conversations they have with their clients. When I started speaking to sales organizations, the number one comment on or surveys was that the sales force wanted the exact words for certain conversations, especially conversations in difficult scenarios.
When we started building the content for Sales Accelerator, we decided to include a set of client prompts using good language choices, what we call talk tracks. We call that category of courses COACH, since it allows the salesperson to drill the language and gain the confidence that improves their outcomes.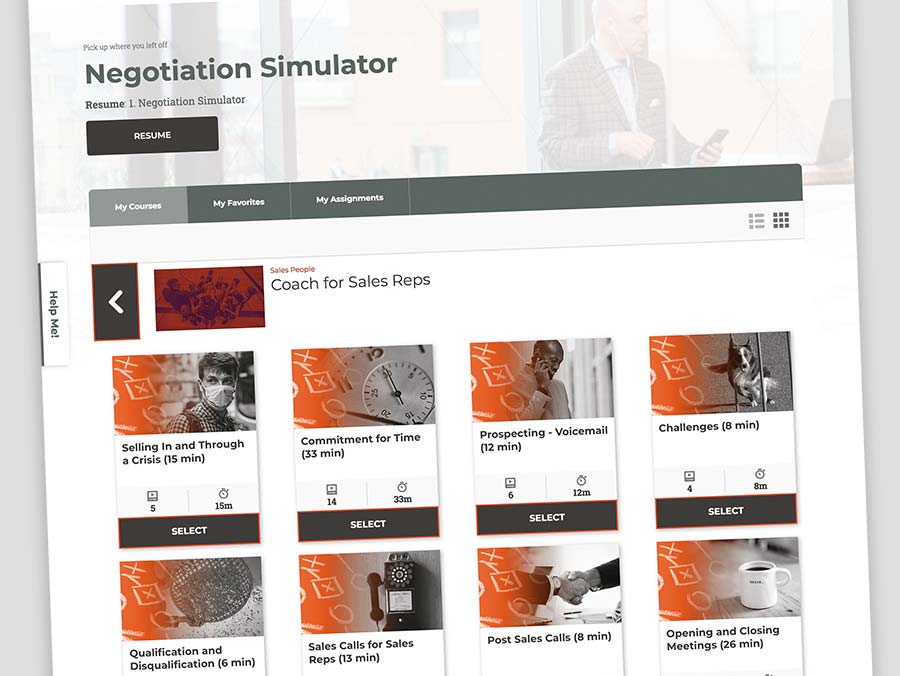 Writing talk tracks can be tricky. Most people don't talk like they write, as writing permits you to think through each word, making intentional, careful choices. These scripts often feel unnatural and are difficult to say out loud, which makes them sound awkward to the client. You want to stick to scripts with language you can use.
There are plenty of phrases and tactics you should avoid when it comes to sales scripts. Any cold call that starts with "is now a good time," "is now a bad time," or "do you have twenty-seven seconds" will soon end in a dial tone, as these poor choices were designed for a different and long-past business climate.
Likewise, don't try to close a deal by asking the client whether they "want to take delivery today or tomorrow," or asking, "if I could give you a fifteen percent discount, would you sign a contract today?" This isn't how professionals in business talk, and each of those examples projects a lack of confidence.
The best way to have the right words without sounding scripted is to role-play scenarios, so the first time your client hears your talk track, it's actually the twenty-second time you've had the conversation—even if the first twenty-one were with another salesperson on your team.
Cold Call Scripts
There is nothing more important than scheduling meetings with your prospective clients, as you can never capture an opportunity that you didn't first create. Opening is the new closing, especially because there are so many companies now competing in every vertical. If you don't have great talk tracks for acquiring a meeting, you won't get far enough to use any of your other tracks because you won't have any prospects to talk to.
You can find my proprietary strategy for getting a meeting here: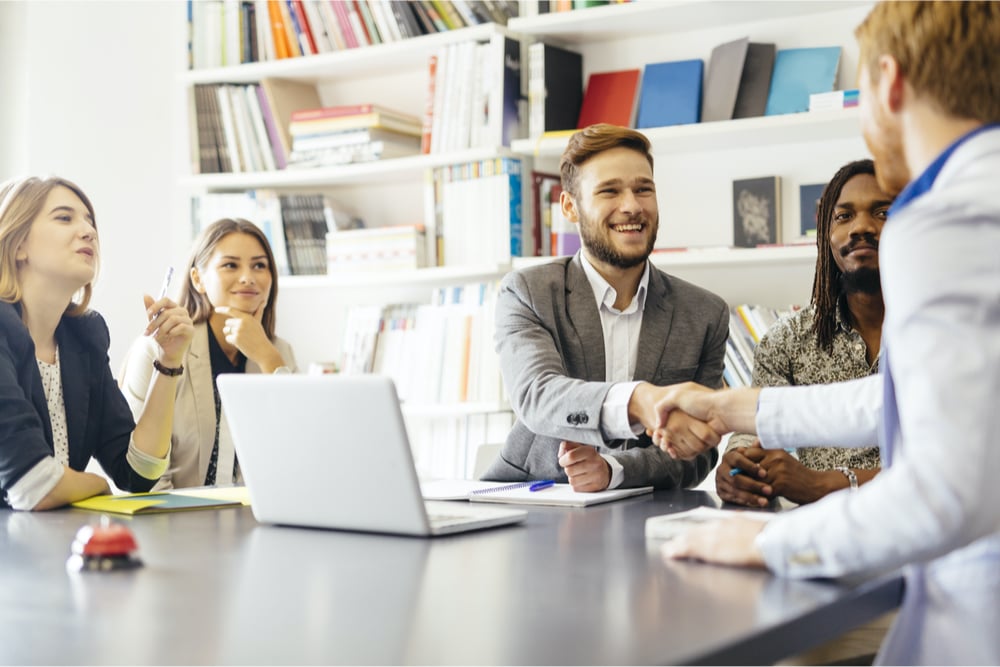 Rapport-Building Scripts
In the past, you might sit down across from your prospective client, spot a picture of their family on their desk, and ask them about their children. But because professional interactions now take many different forms—including late-night emails from contacts struggling to keep up—the new rapport in sales is a business conversation. If you used the cold call strategy above, you can start by talking about the factors and forces that will impact your client's business. A busy person may initiate some rapport-building at the end of the call, but only if they found the conversation valuable.
We have to be careful here and recognize that in some geographic areas, starting with rapport-building is critical to building the relationship. In other areas, especially places like New York City where things move very fast, early rapport-building will ruin your chances of creating a new opportunity.
In a modern sales approach, you start by providing insights and a provocative perspective. Using an executive briefing allows you to open the call by saying, "I imagine you are tracking some of the same factors and trends as we are, and in a few minutes I'd like to ask you to share how these things are showing up in your world and how they are impacting your business."
If you are not taking this kind of approach, you would do well to start the conversation with a business question, such as "I saw on LinkedIn that you have been here for three years. Where were you before, and what attracted you to COMPANY NAME?"
You want to avoid this pattern: "I noticed you went to Miami University. My brother went to Miami."
Objection-Filled Scripts
In B2B sales, your prospective clients and even your current clients will object to certain requests or to making certain commitments. Many objections are really a way for the client to avoid telling you that they have a concern that prevents them from moving forward. Without good language to elicit and address those concerns, your deal is in grave danger.
Other times, your contact will provide you with a challenge, something like "what makes you different?" or "your competitor's prices are all less than yours."
Here are a couple examples of the hundred or so objections covered in the Sales Accelerator Course: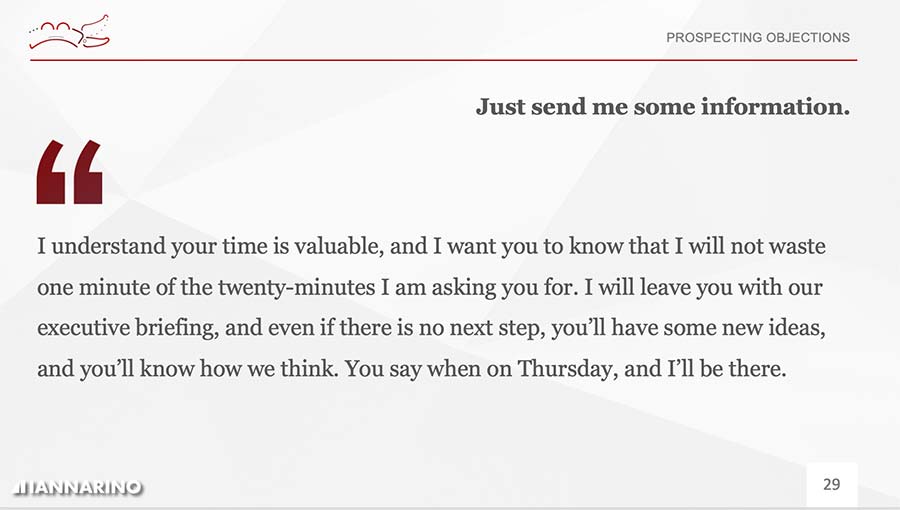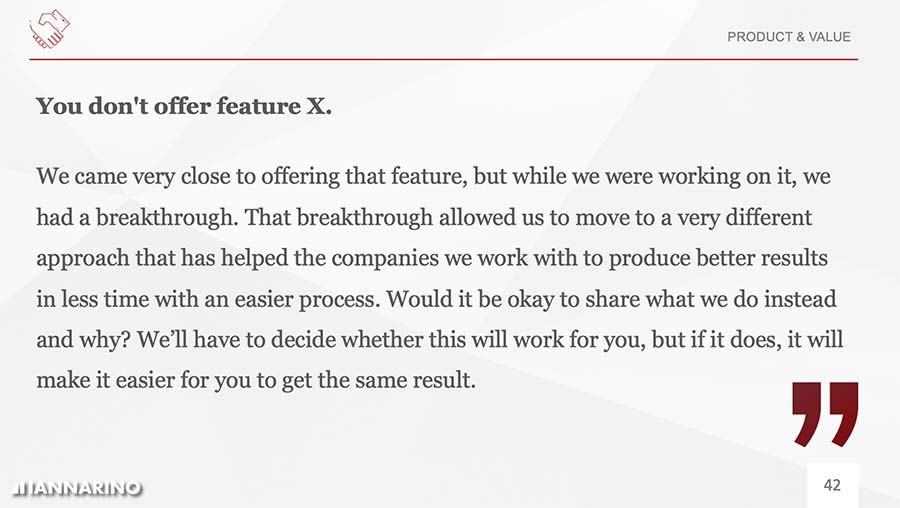 Final Stage Scripts
There are only two books on closing that I recommend. The first is my book, The Lost Art of Closing: Winning the 10 Commitments That Drive Sales. The second is James Muir's book The Perfect Close. Any of the older books on closing provide language that will make you feel bad about yourself and make your client think you're too awkward to do business with. I still don't know what the doorknob close is, but whatever it is, you don't need it unless you're selling time machines.
If you have done good work for and with your prospective client, then there is nothing easier or more natural than asking for the opportunity to help them achieve the better results they need. You don't have to offer a discount or use any uncomfortable language.

Upsell and Cross-Selling Scripts
We use the words upsell and cross-sell for the very important idea of continually creating value for our clients. This is a rich area to explore when it comes to language, but also because you need effective strategies for improving your client's results and your own. Cross-selling can increase sales by 20% and profits by 30%.
In professional B2B sales, especially when you have a complex sale, the best strategy is to build a roadmap that projects what future projects and initiatives the client will need to develop to maximize their results. A roadmap can also serve as a maturity model, showing the client where they are on the model and what they will need to do to improve their position. By showing them their path, you seed your upsell and cross-sell at the very start. Existing customers are easier to sell to, by a long shot: you're 60-70% likely to sell to an existing customer, compared to the 5-20% likelihood of selling to a new prospect.
"This is what a roadmap might look like. Once we finish the first initiative, you can double your output at a very low cost by adopting the next two initiatives on the roadmap. But first, let's take care of what you need now."
The Secret to Maximizing Your Profits Using Sales Scripts
The only vehicle for creating value for your clients is a conversation. Conversations are made up of words and sentences that express ideas and allow us to communicate. The better and more powerful your language—and the better you deliver it—the better your results. Better sales conversations often set one salesperson apart from another, especially when they both sell the same thing, for the same company, with the same manager, at the same price, and against the same competitors.