The question as to which prospecting method is the most effective can be answered in two ways. The first answer is that cold calling is the fastest and most direct method to acquire a meeting in B2B sales, even though many salespeople wrongly believe that email alone is a better choice. The second, and more important answer, is that the most effective approach now takes a longer view of the problem of gaining appointments with your targeted clients.
Inbound or Outbound?
The argument over the most effective way to prospect has been framed as a contest between Inbound and Outbound, also called cold outreach, as your dream client isn't expecting your communication. Inbound sources, like your website, are permission-based marketing approaches where the client agrees to accept your communication–even though they do not agree to a meeting.
For a short time, the inbound side of the argument believed that there would be no more cold outreach in the future, that sales organizations would generate all the leads they needed by passively waiting for their dream clients to stumble across them on the social platforms and fill out a form for a piece of content. This argument died of the natural causes of not being true.
The inbound argument morphed into the idea that prospecting effectiveness is a contest between the cold call and email, or cold calls and the social channels, like LinkedIn. As marketing automation was applied to prospecting, there was a proliferation of automated prospecting sequences and a brute force approach on LinkedIn, one that amounts to a spray and pray approach with little or no targeting–a cardinal sin in prospecting.
Allbound
There is nothing wrong with inbound. If you can gain attention and enter into a conversation with your prospect by sharing some insight, you start the conversation in a different, and sometimes better, place. There is also nothing wrong with cold outreach, whether you choose to use the telephone or email or both. The social platforms are also valuable, as are networking events, trade shows, warm referrals, and every other communication and medium and strategy.
The approach that is likely to serve you best is allbound, using all of the tools available, and making smart decisions about where and when you ask for a meeting and even smarter decisions about how you communicate the value of that meeting.
Trading Value
Just yesterday, a young buck who is being taught and trained to sell software with a self-oriented approach asked me if he could pick my brain. Recognizing that he wanted to pitch me, I rejected his request. First, he started with a lie (not the very best start of a potential relationship). Second, he offered me no value for the time he wanted me to give him.
The very best approach to prospecting to gain a meeting is to start with the idea that you need to be able to create value for your client in that meeting–whether or not they buy from you. It's also one that uses all of the prospecting methods available to communicate that you are someone worth meeting with because doing so will help your dream clients improve their results.
Using all of the tools and methods is better than relying on a single tool or a single medium, all of which have strengths and weaknesses. This leads us to a prospecting sequence or cadence, but not a fully-automated one, nor one that results in little more than a spam campaign.
The Prospecting Sequence
When you think of prospecting and gaining meetings as something that is going to take time, you recognize the value of a plan and a process to communicate value over time, exercising a patient, professional, persistent pursuit plan. Stringing together a series of attempts to gain a meeting strategically using different mediums is an effective approach.
You can use cold calls, cold emails, voicemail, personalized videos, InMails on LinkedIn, networking events, trade shows, warm referrals, traditional mail, blog posts with a powerful insight, case studies that share your point of view, white papers that describe some subject your prospective client is likely to find useful, or simply walking into your dream client's building and asking to speak to the person you are trying to meet.
Some approaches should dominate your prospecting, the first of which should always be a phone call, cold or otherwise. Of all of the tools available to you, other than walking in the door and asking to meet with the contact you are pursuing, the phone is the only one that provides for synchronous communication, one where you can ask for a meeting, and your client can say yes or no.
Using the phone as the first step in your sequence allows you to schedule a meeting without executing your prospecting sequence. When your calls don't result in a meeting, following an approach built on sharing your insights and pursuing time is the most effective prospecting method.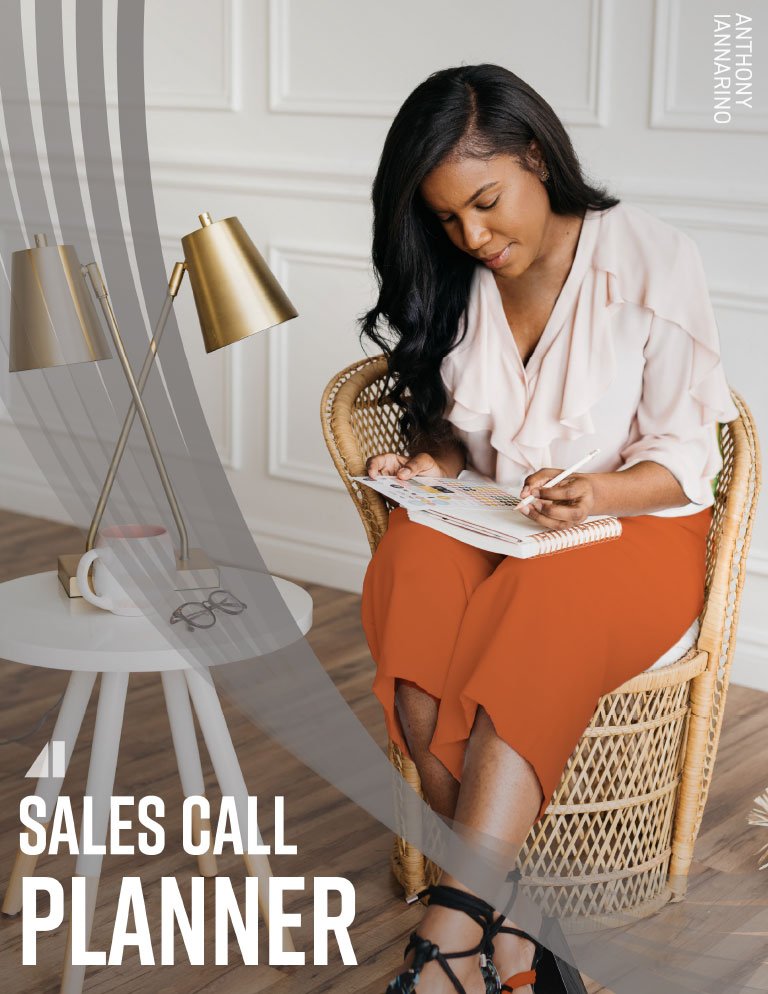 Get the Free eBook!
Sales Call Planner Guide
Your dream client expects you to know how to help them and what that process should look like. Execute your best sales calls with this free sales call planner!
Download Now