I recently had a client describe me as non-slimy. Those were the words he used to describe our interaction. For this to mean anything worth exploring, you would have to believe that there is a way to be slimy in sales. Naturally, I asked for clarification.
Give Up Straight Pitching
The client's version of slimy comes from his experience with salespeople that immediately started pitching him on why he should choose them over their competitors. His experience with the groups he met with began with a little small talk, followed by a slide deck and a conversation about what made their company great. You can very easily imagine the contents of the first eight slides in their decks, and you might have been able to swap out the logos and have the salesperson work from a competitor's deck with nothing lost.
What can make one appear slimy is the way they view the outcome of their effort; in this case, it is "making the sale." An approach in which your clear intention is "making the sale" is self-oriented because you are trying to get what you want—not help your prospect get what they want or need, something that would make you other-oriented.
Focus on Ideas and Outcomes
There is a difference between salespeople and companies that pitch themselves and their services and salespeople who focus on ideas and outcomes. The first group believes they are selling their solution and their company by directly addressing these things with their prospective clients. The second group focuses on ideas and outcomes, and in doing so creates a preference to work with them by giving the prospect the experience of learning how they think, what they believe is important, and what it is going to be like to work with them.
In the popular vernacular, you might call this insight. You might also call it business acumen, situational knowledge, and intellectual curiosity. To be a consultative salesperson, you must possess these things to provide counsel.
When we salespeople are at our best, we are deeply interested in other people, their business, and their challenges. We also focus on exploring how we might improve their circumstances and their results. Instead of telling the prospective clients why they should choose us, we prove it through our words and actions, a path that appears to the slimy salesperson as being too indirect to be valid—or worthy of emulating.
Pursue Persistent Patience
Another factor that one could easily perceive as "slimy" is the speed at which the sales conversations (plural, and especially plural in the case of most complex, B2B sales).
Speeding through the process in an attempt to get the final "ask" creates a negative emotional feeling in your prospect. Skipping important conversations creates greater concern for your prospect, as it feels like you are driving them to a conclusion without their consent. It feels like "being sold," something a bad salesperson once tried when selling to me.
A non-slimy approach is one of persistent patience. The persistence necessary is because of the tendency to skip to the end when you already know what the right answer is, how it will help your prospect, and what they need to do to get started. The patient part is to follow a process that provides your dream client with a preference to work with you and the confidence to move forward.
In The Lost Art of Closing: Winning the 10 Commitments That Drive Sales, I outlined a non-linear process for helping a prospect to move from their current state to a better future state. Those commitments include Time, Explore, Change, Collaborate, Build Consensus, Invest, Review Solutions, Resolve Concerns, Decide (what you know as "closing"), and Execute. Even though my experience caused me to write this book from a B2B perspective, it has been useful for B2C, as the categories of commitments tend to occur in sales generally, even if they go faster in B2C.
No more pushy sales tactics. The Lost Art of Closing shows you how to proactively lead your customer and close your sales.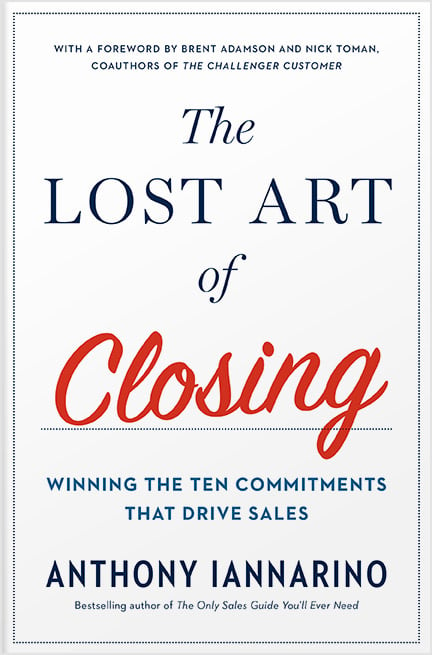 These commitments about individual decisions your dream client needs to make can take time, and guiding them through the conversation tends to speed things up, where trying to avoid them to get the ninth commitments slows things down—if it doesn't kill the deal altogether.
In sales, fast is slow, and slow is fast, a truth you will find extends to human relationships in all their many varieties.
It takes both persistence and patience to sell the client on the process, and it's that persistent patience that positions you as the right person, and by extension, your company, to choose as a partner. A non-slimy approach is one in which you serve your dream client by helping them make the changes they need to make by guiding them through a process that takes into account their needs—even when they don't know precisely what is necessary.
Non-Slimy
I have asked college students to describe the attributes that define a salesperson. They generally reply with words like pushy, smarmy, slimy, greedy, selfish, and aggressive, even though they have had very few interactions with salespeople, with their only significant purchase being a used car. The reason the connotation is so persistent is that a few bad actors leave such an awful impression.
It is difficult to become a great salesperson. It takes time, effort, and a real desire to learn and improve at your chosen craft. However, that is a more accessible, faster, and more certain success plan than trying any short cut that might make your prospect perceive you as slimy.