In the past, the word discovery was used to describe both a stage in the sales process as well as an outcome. Both the stage and the outcome described the process of asking clients to share their dissatisfaction with their results, their supplier, and their challenges. Discovery presupposed that the client was dissatisfied, and if you get them to share all the ways they were unhappy, you could share with them how you might help improve their results and their experience.
Like any strategy or tactic, over time it can lose some of its effectiveness. You would be hard-pressed to identify all the many factors that have made what I will call "traditional discovery" less effective over time, as there are many.
There is no doubt that many businesses now have fewer people who are being asked to do more with less; we are leaner.
It's also true that the purchasing function has gained both power and influence, with larger companies consolidating suppliers while also ensuring they have enough vendors to take care of their needs, and making traditional discovery more difficult.
There is also a drive to achieve consensus before making significant changes, as well as a willingness to live with the status quo, the two of which may be more closely linked than we recognize.
All of these factors, as well as the many more missing from this list, leads to more difficulty making a case to displace the status quo.
If the idea of solution selling began with traditional discovery, modern consultative selling now starts with something that might be more accurately termed "Exploration," if only to shift both the strategy and the outcome.
The Difference in Discovery and Exploration
In traditional discovery, the outcome is to ask questions that caused your prospective client to disclose their dissatisfaction, that dissatisfaction being necessary for you to create an opportunity. In Exploration, the idea of discovery is broadened to include different approaches and different outcomes, both of which require more business acumen, as well as more significant sales acumen.
Exploration opens up several possibilities and a higher likelihood of creating a new opportunity by allowing for the Exploration of any known problems, challenges, or dissatisfaction while also creating a space to explore what is possible, the better results available to your dream client even if they are not presently dissatisfied. More still, the idea of exploring change moves past the idea that dissatisfaction by itself is enough to compel your prospect to change; if it were, your prospect would already be working on change.
Exploration offers the ability to explore change when the client's dissatisfaction may not rise to a level that yet compels change, allowing you to share the context that should cause the client to act.
If you have wondered why you have had meetings with prospects who are dissatisfied, who need to do something different, and who still do nothing, it is because they are not yet compelled to change. This is why you have meetings with stakeholders who are happy to have discovery meetings with you and then go dark, which brings us to another shift worth exploring here.
B2B Sales is a Game of Consensus-Building
The idea of traditional discovery, while still being valuable, tends to lose something when there are more stakeholders involved in decisions to change. Let's say you found a stakeholder with a title and the responsibility for the very outcome you can improve. You have had a traditional discovery call, and this stakeholder has shared her dissatisfaction. You might believe you have an opportunity, but the fact that the four other people who would have to agree to change were absent from your conversations makes it unlikely.
The idea of Exploration takes a different look at opportunity creation, starting with the idea that you are exploring change, a change that is going to require the support of multiple stakeholders.
In The Lost Art of Closing: Winning the 10 Commitments That Drive Sales, I provided an outline of the commitments one generally needs to obtain along the path from target to close. In that book, and on LinkedIn, I made note of the fact that the sales process and the buying process are both nonlinear. It's unlikely that a complex B2B sale progresses through stages without going back over ground already covered, and without some conversations that a traditional approach would have seen as needing to occur later in the linear process, we try to adhere to.No more pushy sales tactics. The Lost Art of Closing shows you how to proactively lead your customer and close your sales.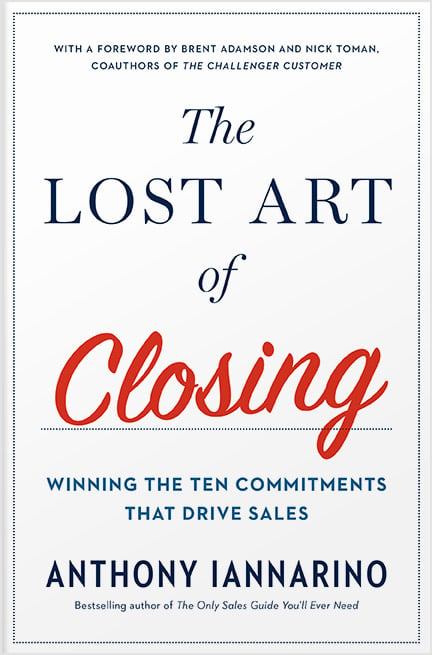 You are likely now to find different stakeholders in different places along the continuum of "dissatisfied" or what Exploration might better describe as "compelled to change." Exploration extends to exploring change and collaborating with more stakeholders to build consensus. It recognizes that the change you are asking—and helping—the client to make is organizational.
Intentionality and Change
In one of my businesses, I started asking clients to provide me access to the stakeholders who were going to be affected by any decision to change as the next step in our rather linear process more than two decades ago. Just paying attention to their needs not only increased sales and improved our results, but it also increased the speed at which we won deals. We recognized that without allowing them to participate in Exploration, we not only wouldn't have their support, we would also create resistance to their executing the solution (which sometimes boiled down to not placing orders).
What was interesting about meeting with a lot more stakeholders, including end-users, was that there were always more people compelled to change that would have been left out of the conversation.
Even though traditional discovery is valuable, approaching conversations as the Exploration of Change allows for a broader conversation about change and greater outcomes when it comes to creating new opportunities.