People often challenge me about my ideas in Eat Their Lunch, but mainly about the concept of Level 4 Value Creation and Entering the sales conversation from the right instead of the left (imagine Level 1 is on the left side of a slide, and Level 4 is on the right). The reason this is important is because your approach can make you irrelevant.
Generally, those who have concerns start with the idea that the trends that are affecting their prospect's business, or soon will be, will be known to the prospect and that the contact might know more than the salesperson. They also worry about the salesperson managing an understanding of multiple verticals. Three times in the last three months, a person concerned about this approach has suggested the salesperson would need to be a consultant from one of the big consulting firms to be able to hold their own in a conversation with their prospective clients.
One of my deepest beliefs is that when people express a concern, it is true for them—even if it is not valid. Another one of my beliefs is that we often fear the wrong danger. Both are at play here. But before I resolve the concerns and help you fear the real threat, let's look at what it sounds like when you sell at each level.
Four Levels of Increasing Value
First, a quick primer. All of the levels of value are important. Some stakeholders care more about some levels of value. End-users generally care about features and benefits; leaders tend not to. Leaders tend to care more about the strategic value, even though most salespeople don't know how to convey it, substituting a value proposition and an ROI calculation (a Level 3 approach).
One of the examples someone shared with me was about a sales interaction from a company that provides data for salespeople. Let's look at that as the example of the levels.
Level 1: "We have the largest database of phone numbers and emails available at the lowest price."
Level 2: "We have the largest database of phone number and emails available, with a support team to help you build and manage your lists.
Level 3: "We can your team the verified accurate data they need to be able to prospect efficiently and effectively, and we can integrate with your CRM."
Level 4: "I can help you acquire clients with the highest lifetime value faster." This level will prevent you from being irrelevant.
No one wants to buy data. No one wants support. No one wants to integrate the data with their CRM. They want to acquire new clients faster and with greater certainty. You get to the lower value through the higher value, preventing irrelevance.
The lower levels of value are all still useful and necessary, but unfortunately, they are all levels of commoditization. When you make statements like examples 1 through 3, you identify yourself as undifferentiated. You are very literally saying what your competitors say. Not to worry, once you've identified yourself a commodity, someone will be kind enough to introduce you to purchasing and provide you with an RFP.
Relevance versus Depth
The fear that the salesperson would need the knowledge of a consultant from one of the big firms is not the fear that should worry you. The real concern should be that you are irrelevant because you are not aware of what's going on your client's world, you have now ideas about how these things might be impacting their business, and that you have no theory about how you can help them with their strategic outcomes.
There is a reason executives don't show up to your meetings. The reason they miss meetings is the reason they don't show up for a demo if you sell a SAAS product. The reason? You are not worth their time. You are not teaching them how to get the outcomes they need.
Let's look at the framework in Eat Their Lunch. It starts with Trends and an understanding of what's changing in your client's world. From there, it moves on to the proof of the trend and their direction. There is no reason to focus on any trend that doesn't provide implications, as the consequences are what is necessary to compel change. Once you have established these, your views and your values lead to your recommendations. Your recommendations are how your dream client gets the strategic outcome.Win customers away from your competition. Check out Eat Their Lunch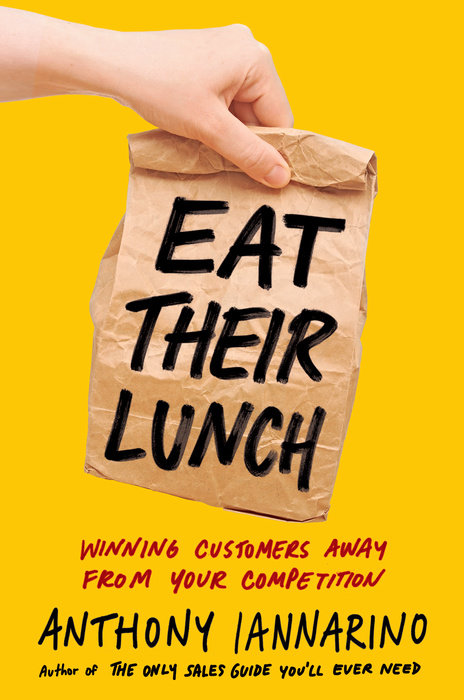 You Know More Than They Do
I am going to dispel the concern about depth here, arguing against the idea that your dream client knows more than you do, specifically because I have not found it to be accurate as it pertains to sales.
Your dream client knows more about their business than you do. They are also likely to know more about their vertical. What they know less about is the intersection of your business and their business. So how could they be expected to know more than you when they buy what you sell very few times, and you sell what they buy every day? You also have a company devoted to creating that value for hundreds or thousands of customers. You have greater depth by the very nature of your experience (and that of your entire enterprise, or at least you should).
The Rules
You cannot be a trusted advisor without the ability to provide advice.
You cannot be consultative without being able to guide the decisions your clients need to make.
You cannot be either a trusted advisor or consultative while also being a "know-nothing."
The less you know, the more you need to rely on your company's reputation and your product or service to sell itself, you being of no real value to your dream client outside of those things.
Starting the conversation at lower levels of value identifies you as a commodity, not your product. The decision about where you start a conversation is not dependent on your product or service. It's an individual choice.
There should always be a disparity of information that is in your balance. If you don't know something that your dream client doesn't know, you are irrelevant.
The person who shapes their client's view is likely to be the one who commands their time, their attention, and their decisions. Someone will occupy this space, and it isn't good for you when your competitor occupies that space.
Bowing to Evolutionary Pressure
The direction of the evolution of sales is clear. It is towards greater value creation and away from commoditization. On one side, there is an approach I call "super-transactional," marked by the reduction of everything to commodity and where salespeople are increasingly unnecessary. On the other, there is an approach I call "super-relational," where greater value creation is necessary and where salespeople deliver part of that higher value.
The hard part about reality is that it doesn't care about your fears or your feelings. Nor does it care if you decide to ignore its truth. See the Taxi Industry (Uber, Lyft). See Book Stores and almost all retail (Amazon.com). See Publishing (the internet), Television and Movies (see Netflix). See Pizza delivery (See DoorDash, UberEats, GrubHub). The list is inexhaustible.
The hollow horn plays wasted words, Proves to warn that he not busy being born, Is busy dying. – Robert Zimmerman