Practice doesn't make perfect. Perfect practice makes perfect.
For a couple of years, I practiced Aikido, a very nuanced martial art, and one based on the premise that anyone who would attack you was already seriously troubled and deserved your compassion. O'Sensei made some connection with the Universe and created a way to protect yourself while also protecting the person trying to harm you. O'Sensei based a lot of the forms on jiu-jitsu, another form of self-protection that stops short of seriously hurting the person trying to do you harm.
If you have never seen Aikido practiced, it is a spectacularly beautiful, with big sweeping motions, made even more alluring by the traditional Japanese hakama. There are only 39 forms in the art, and they are challenging, mostly because they are counterintuitive. Sometimes you step into your attacker, and other times, you turn backward away from them, when your instinct would have you do something different.
Avoiding Novelties and Distractions
My Sensei was an excellent practitioner and teacher. However, he isn't the one who mainly taught me the Aikido I learned in the dojo. It was the black belts I chose to work with that taught me everything I learned. The Sensei was always on the lookout for novelties, and when something caught his eye, he would stop us from continuing on some form so we could explore something he found to be useful. In the course of 90 minutes, we would practice a lot of different forms and explore many novelties.
A lot of advanced practitioners enjoyed the novelties, but my interest was burning in the forms. To Hell with the novelties, I thought. To ensure I had the time to work on forms, I would get to the dojo a half hour early to practice the forms with a black belt or a third-degree black belt (san dan). I would stay a half hour late to drill the forms after most students had left, always working with people of the highest rank, who not only had a different feel but who were also happy to do the same form over and over.
Burn It In
The high ranking students were impressed with the fact that I was willing to do the same form for a half hour straight, never suggesting that I be shown a new form, and never looking for any novelty. All I wanted was a chance to drill the same pattern, to master it. You can understand the forms without your body being able to perform them. I wanted to be able to do them without having to think about it, something that would slow your response should you ever have needed to defend yourself.
One day, I was going through the six forms that would be required for the test to gain the first rank when the Sensei walked by. He watched me practice with a third-degree black belt go through all the forms, and then he said, "You are taking your test on Saturday." When he walked away, my training partner said, "You just passed your test." The Sensei had seen enough.
The Power of Perfect Practice
When new students joined the dojo, many of them believed me to have a much higher rank than I had attained. Because I practiced with people far more skilled, and because I tried my best to model their example, I felt different to them than other students. I was mimicking people with far greater experience and skill, one of the best and fastest ways to gain competency.
It is difficult to really know something if you don't drill it. If you don't rehearse, your performance will not be what it might have been had you done so. You can know something intellectually without really knowing it. You have to get it into your body.
In human endeavors where skills differentiate the performance of one person from another, a professional from an amateur or a student from a master, the difference is found in the practice, the rehearsal, and the drills. It is not, however, just the time spent practicing, but also how you practice and the intensity of your focus.
Focus on the Fundamentals
In any area in which you want to achieve mastery, your time and energy are best spent on practicing, rehearsing, and drilling the fundamentals. What makes one a master of their craft is their willingness to persist in mastering the fundamentals, developing a competency by going over the same ground without losing interest or enthusiasm. You gain mastery by ignoring the novelties until you have mastered the fundamentals. Only after you have mastered the fundamentals can you look for innovations and variations on the theme. (You can find the 17 fundamentals of B2B Sales in The Only Sales Guide You'll Ever Need)
Learn Anthony's core strategies & tactics for sales success at any level with The Only Sales Guide You'll Ever Need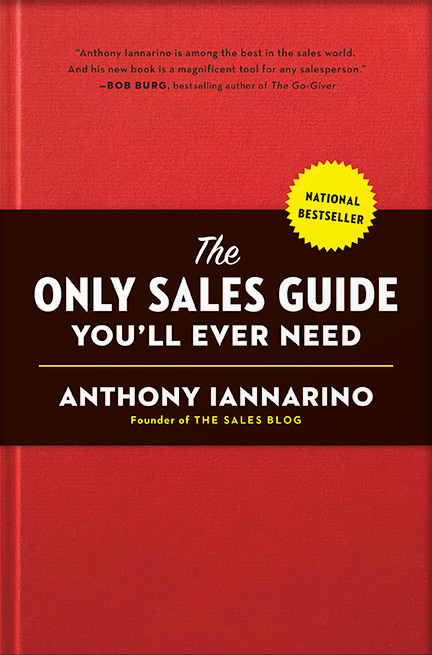 If you are not drilling the fundamentals, you are not on the path to mastery. Perfect practice is what makes perfect, and perfect practice means drilling the fundamentals.