The Sales Blog Interview: Tom Peters on The Little Big Things (part two)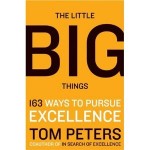 On Friday, March 26th, 2010, I had the rare privilege of interviewing Tom Peters about his new book, The Little Big Things: 163 Ways to Pursue Excellence. I asked Tom about Brand You, the little big things in sales, the value of business acumen, the politics of change management, and Twitter. Here is part two. (Part one can be found here).
Anthony: So I understand your aversion to business schools and to MBA programs generally. Sales has changed from we sell products to we sell services, and now to we sell outcomes; we sell business results and we sell the acceleration of those business results. Salespeople as a result, need greater business acumen than most now possess. As you may have guessed, there is little to no attention paid in sales training to business acumen; it's all sales acumen.
Tom: Right.
Anthony: What advice would you have for a salesperson who needs now to really up their own personal development on the business side and to improve their business acumen in order to be able to sell and to create business value in this environment?
Tom: Right. Well let's start with the admission of tongue somewhat in cheek. There is no question that, in terms of the people I have met and the places I have gone, that my Stanford MBA has not exactly been a drawback.
One of the problems I have with the MBA thing, and then I am going to try to get around to answering your question, is this ridiculous thing when we say MBA is that we say Harvard, Stanford, Wharton, Kellogg. The reality is that 99.99% of schools are not Harvard, Stanford, Wharton, Kellogg. There is a real mistake of confusing the real world with the world that you and I were a part of. That's number one.
I taught occasional classes. I lived in the San Francisco Bay area for thirty odd years. I taught occasional night classes at Golden Gate University. And I loved the students! These were people who were working full time jobs, and yet over a three or four year period they made the time to take the courses to learn accounting, to learn this, and so on and so forth. I love that!
I think any salesperson who, whether it is online, or whether it is Golden Gate University or one of 100 schools like it, who is not taking business courses is an idiot. I totally agree with your premise. You've got to be able to make the business case now, and I know that I pretend that I love all things associated with sales, but I agree with you that ninety percent of sales training is focused on other than what you and I are talking about, which is how to make the value-add pitch.
My answer is in general that people who have the biggest thirst for knowledge and learning, I think forever, like Ben Franklin, but certainly in the current situation, are the people who are most likely to be the winners. The good news is, with the world of the web and so on, is that there are a LOT of ways to gain knowledge in today's world.
I have a friend who's got four degrees, including advanced degrees from both Harvard and Stanford. He has two bio-tech companies, and he listens to two or three hour-long webinars a week. He's just desperately hungry for new knowledge. I think that's what salespeople ought to be doing to.
Anthony: I think that great advice and I appreciate that. One of the trouble spots for those of in sales is in understanding now that we are responsible for the outcome. That means leading the execution, leading the project management, leading cross-functional teams. It's become more of leadership and change management role. What are the little big things in the project management, the execution, and the politics of change management for salespeople?
Tom: One thing I would say is that, and, as you know, this is another of my little big things, right near the heart of the matter is fabulous relationships in your own company three and four levels down. Because when you are selling solutions, you are really selling the integration of your company's knowledge with the client's company. And that ain't a product! It's the way that you can get support from your IS guy. It's the way that you can get support from your service people.
I was at a conference a while back and talking to a telecom company's top one, or two, or three, or four, or five salesperson. She was asking for advice, and she had laid her case out. I said to her, "You are spending too much time with your customer." She looked at me like I was the biggest idiot in the world. I said, well you just spent time complaining about the lousy timeliness of installation in your customer's company, and that's because your relationships with your service people are not as good as they might be. End of story.
Even if it costs you two points in your comp plan for the next thirty or ninety days, spend the extra time with the inside people. It's applying my company as a whole to you, the customer's company. That's number one.
Number two, I think pretty obviously, in the long haul we have got to take a much broader view in the people we are hiring in the sales function. I think it is people who, as you were saying when we were talking a few minutes ago, who enjoy the business case, who really get off on it. I think we need to hire people who, when you look in their background, they've been people who started a club in their school world, people who are really good at bringing people together. I think we need to look at people who are very willing to accept at all kinds of outside influence. We need to look at people who have demonstrated patience, because you do not change a customer's culture unless you have got patience up the gazoo—and I don't give a damn what your sales incentive program is, you've got have the patience!
All the best salespeople . . . that's a stupid statement . . . Most of the best salespeople that I know are NOT slaves to their incentive system.
Anthony: But they are supremely political. And they know that politics means they sell inside their own organization, as well as selling outside their own organization.
Tom: You've hit, as you know, one of my other buzzwords that I love, and that is politics. All organizations are political; two-person, ten-person, one thousand-person. Unless you are willing to invest in the politics of your own organization, and the client organization, and unless you are adult enough to realize that it's politics, you are, de facto, doomed.
You've got get off on it! It's not that you have to learn to "deal with it." That's bad language. You've got to get off on it; you've got to get a kick out of it. The twists and turns have got to amuse you in the best sense of the word, because you are a politician as much as our dear friends on the floor of the House and the Senate.
Anthony: I think that is why so many change efforts fail. They underestimate the politics. The sale is fine, the products, services, and ideas are fine. They underestimate how much it really costs to make change in the way of your time and energy spent on politics.
Tom: One of the things that leads to, which again has been a thing of mine for a long time, is that if you want to bring about change that is more or less about culture change in a client organization, you don't make a frontal attack. You find people in the client organization who are turned on by what you are doing, and you turn them into demos. "Demo" is one of my favorite words. The notion that you can charge full speed ahead into a customer organization, even a small one, with changes that border on cultural change, is total insanity.
Anthony: One off sales topic question for my closing question here. You were, if I remember correctly, a reluctant tweeter. You now seem to be giving Twitter the full embrace here. What changed for you with this tool?
Tom: How much fun it was. Just pure, raw fun. As one could guess from my background and what I do for a living, I like talking. Twitter is a wonderful way to have conversations. I love the kind of feedback I get. And I love the discipline of 140 characters. And so I will give you my money-back guarantee that it has nothing to do with marketing and sales; it has to do with pure, raw fun. But then I think most success does have to do with pure, raw fun. Fun not in the sense of "tell good jokes," but in the sense of getting off on what you do from hour to hour. And I get off on it!
Anthony: I do too. I really appreciate you spending your time with me, and you've been a great influence on my life and my thinking. It's great honor and a privilege to be able to speak to you.
Tom: It is mutual, and I really enjoy what you do. I liked the questions and it's fun to talk to interesting people. It doesn't get any better than that.
Anthony: I'll look forward to interviewing you for your next book, the book that you've promised not to write, in a couple years.
Tom: (laughing) Don't hold your breath!