One of the variables to success in sales is self-confidence. You create a sense of certainty for your clients when you are convicted about who you are, your ability to help produce better results, and the advice you provide them. When you are not confident, you create a sense of uncertainty, your contacts wondering if they are taking too great a risk buying from someone who isn't sure of themselves.
I am a large part of the overall value proposition. Your prospective client is deciding who to buy from according to the experience they have sitting across the table from you, engaged in a conversation about change. The way that they're judging your company and your solution is through that conversation. Your ability to successfully engage in a conversation that creates value for your client is what generates a preference to work with you and buy from your company. This makes you a rather large part of the value proposition.
I believe that I belong at the table when my prospective clients are considering a change. One of the factors that provide an immense amount of confidence is believing that you deserve the right to sit at the table when your clients or prospective clients discuss the kind of change you can help create. When you recognize that the value you create by engaging in this conversation can help them solve their problems, address their challenges and take care of new opportunities that will improve the results, you recognize how important it is that they consult with you before making any decision. If your presence would provide a better outcome, you should have the confidence that you deserve a seat at the table.
I believe that I can help my prospective clients identify areas where they may be able to improve the results, even when those better results are unknown to them. When you have the business acumen and situational knowledge that allows you to see areas where your prospective clients can improve, you can act with certainty in pursuing a meeting, knowing that the conversation will allow you to find an area where better results are available to them.
I believe that I can create value for any contact who will provide me with an opportunity to meet with them. The operative words here are prospective clients. When you know for sure that you are going to be able to create value for your prospective clients, even if it's only perspective that helps them understand some variable component of their business, they will leave the conversation with some new possibility.
How I sell is a greater factor in winning deals than what I sell. When you know how to sell using a modern, consultative sales approach, you recognize the advantage that you have over your competition in the position you occupy for your prospective client. When you are playing the game at a different level, your approach is the defining, differentiating experience that allows you to win over your rivals.
My experience allows me to recognize patterns and quickly understand some of what I might need to teach my prospective client to compel them to change. This is a very difficult dichotomy. Your experience may allow you to recognize a pattern long before your client is aware of their challenge. At the same time, you need to provide your prospective client with the experience of discovering the need to change and the better outcomes available to them. Most of your situational knowledge is subconscious, picking up the patterns without recognizing that you are doing so. This provides a very high level of confidence.
Because I have sold the outcomes I help my clients produce many more times than my prospective client has decided to buy those results, I am the one who should lead the conversation. This idea is very similar to belonging at the table with your clients and prospective clients. Not only should you be there to give them advice, but you should also offer them advice on how to decide to change, what options they should explore, how to manage the internal process, and how to ensure they achieve the outcomes they need.No more pushy sales tactics. The Lost Art of Closing shows you how to proactively lead your customer and close your sales.
Because I'm a consultative salesperson, I am a peer to any contact sitting across a desk for me. If you do not believe that you are a peer, you believe that you are less than that. The desire to become your client's trusted advisor means that as it pertains to the outcomes you sell and produce for your clients, you are more knowledgeable than your party across the table. Confidence in sales comes from not believing that you are inferior to your prospective client, nor should you be servile or overly deferential. You believe you are a peer, and your client will feel like you're a peer.
The information I share with my clients is valuable enough to them that they would have to pay a consultant to obtain a similar set of insights and experiences. At some point, you will walk out of a sales call and recognize that you just provided your prospective clients with insights and ideas that are worth hundreds of thousands or millions of dollars. You may discover that you've done this in an early conversation exploring change and because you haven't won their business, you've delivered value a consultant would charge for without providing the solution. The fact that you can provide that kind of value gives you the confidence necessary to sell and win big deals in B2B sales.
Your confidence is one factor in providing your prospective clients to buy from and take your advice, and isn't something you are going to learn in sales training. You have to work to get this for yourself. If you lack any of these beliefs, working to gain confidence in those areas will improve your approach and your results.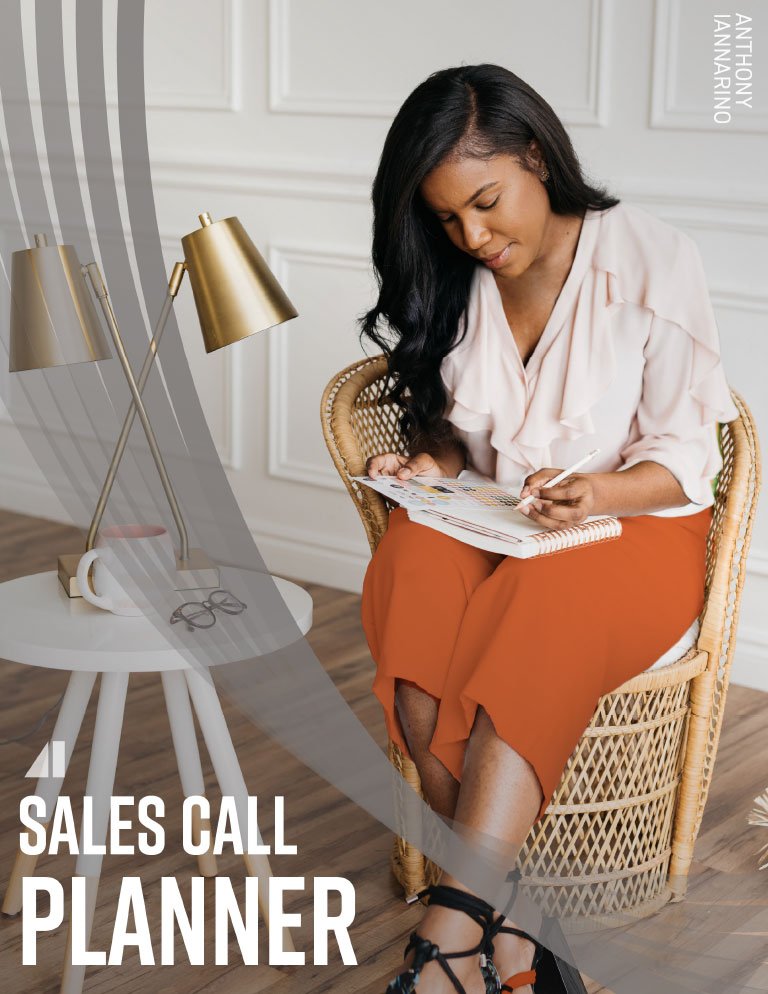 Get the Free eBook!
Sales Call Planner Guide
Your dream client expects you to know how to help them and what that process should look like. Execute your best sales calls with this free sales call planner!
Download Now