Each year, publishers release somewhere in the ballpark of 11 thousand new business-related books. The good news is that means you have a lot of options when it comes to selecting a book to help you with cold calling. The bad news is that it can be hard to tell which books are actually going to help you.
When I looked at the market for sales books, I noticed that there wasn't one on how to succeed in B2B sales. The category was also missing a competency model for the modern sales approach. To close that gap, I wrote The Only Sales Guide You'll Ever Need (an unfortunate title for a writer with a three-book deal).
Neil Rackham wrote SPIN Selling, a book that taught salespeople to acquire an advance—a next meeting. But he never outlined what those advances might be. I wrote The Lost Art of Closing to provide a list of meetings you might need to create and win new deals.
I was surprised that there wasn't a single book on competitive displacements, i.e. taking a client away from your competition. To solve that problem, I wrote Eat Their Lunch.
In my library, I have no less than five shelves of sales books. I have read hundreds of sales books, always gaining something from each book.
In this post, I'll walk you through five of my top picks for cold-calling books. With the help of these resources, you'll have several new tools in your arsenal to help you boost your cold call results.
The Benefits of Reading Cold Calling Books
In sales, we sometimes like to think that experience is the best teacher. It's true that there are some things that are easier to learn by doing, but in most cases, the best way to learn is a mix of reading and doing—theory plus practice. This approach will speed you towards greater competency.
RELATED READ: How to Leverage Your Experience To Sell Better
Benefits of reading a cold calling book: Increasing your own knowledge, learning from the experiences of sales professionals who came before you.
Benefits of reading the book with your team: Group discussions, align your team on key points and practices.
When I write books, I write to the individual who is reading the book. I write to provide the reader with an explanation of something and to couple it with practical, tactical, and actionable ideas they can immediately put to work.
Let's take a look at my five top books for helping you raise your cold-calling game.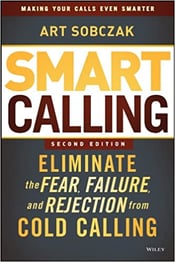 Smart Calling: Eliminate the Fear, Failure, and Rejection from Cold Calling
Smart Calling by Art Sobczak aims to lessen a sales professional's fear while cold calling. The book focuses on creating a formula for successful cold calls, including:
Use of social engineering
A well-planned intro
And more.
Smart Calling is full of real-world examples that you could discuss with your team during a team-wide read if that's your aim. Art Sobczak is a friend and a colleague. He joined us at the 2021 OutBound Conference. His work is excellent, and every salesperson should have this book.
---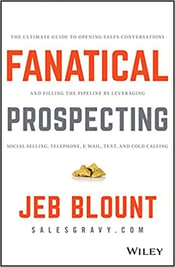 Fanatical Prospecting by Jeb Blount focuses on, you guessed it, prospecting. However, there is a lot of information regarding cold calling in the book.
A key element of this book is Blount's voicemail technique. Leaving the right voicemail is essential in cold calling efforts. The book also covers information on email prospecting, social selling, and more.
Jeb Blount is an institution. He is also one of my very best friends. I often tease Jeb that Fanatical Prospecting is the Harry Potter of sales books. You probably already have this book, but if you don't, it is a must-read.
---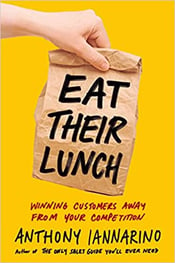 Eat Their Lunch: Winning Customers Away from Your Competition
Eat Their Lunch is my third book. It is the B2B-specific sales book you've been searching for. Though the book focuses on all elements of winning customers away from the competition, a large element is the systematic contact plan, which can be useful in cold calling efforts.
My contribution to cold calling is my proprietary approach to asking for a meeting and a prospecting sequence designed to help salespeople capture the client's mindshare as they pursue a meeting, providing a modern approach to B2B sales.
---

Outbound Sales, No Fluff by Rex Biberston and Ryan Reisert is a quick, direct read that delivers exactly what the title promises: no fluff. It's advertised that you can read the entire book in 45 minutes, making it a good option for busy sales professionals and teams.
This book is targeted toward individual sales professionals, focusing only on elements of the sale that a salesperson can control. The book includes tactics around cold calling, but it's light on examples, which might make it more challenging to read and discuss in the workplace as a team. Focus here on the concepts.
---

The last book on my list is my first book: The Only Sales Guide You'll Ever Need.
A short eight months after publishing The Only Sales Guide, I released my second book, The Lost Art of Closing. Naturally, I received lots of emails and notes from people who had bought the first book busting my chops about having sold them "the only sales guide they'd ever need." The truth is, the right book for you is the one you will read and execute what you learned.
TOSG has a number of chapters that help with cold calling, including the first chapter on Self-Discipline, as well as one on Perseverance. These chapters round out the approaches you find in the other books here. Add as many as you can to your personal library and build your approach from these five books—and book more meetings.
---
Beyond Cold Calling Books: Level Up Your Sales Team
Starting a book club or professional development program with any of these books is an amazing way to start leveling up your sales team. Reading the books and engaging with the material as a team can be a great way not only to learn new skills but to align your sales team on core principles and mindsets you want to lean on moving forward.
No two sales teams are the same, and as a result, no one solution will work the same for every team. If you really want to take your sales team to the next level, skyrocket your close rates, and boost team confidence and morale, I can help. Book a Sales Strategy Session with my team and we'll walk through your current processes and help you identify the places where your current practices are falling short—then, we can get to work on fixing them!