"I have my own sales style." Whenever you hear these words, you can translate it to mean, "I'm winging it." Fortunately for some and unfortunately for others, how you sell is a larger variable to success than what you sell.
This post will explain five sales styles—if you can call them styles. In truth, most of them are crutches that allow the salesperson to will themselves to sell. None of these crutches or obsessions are effective. Removing and replacing them is necessary if you want better results.
The Business Buddy
The business buddy's sales style relies on building rapport. When a salesperson is uncomfortable and needs validation to sell, they use this approach. The greater their rapport, the more comfortable they are. But the inverse is also true for the business buddy. A lack of rapport makes selling more difficult.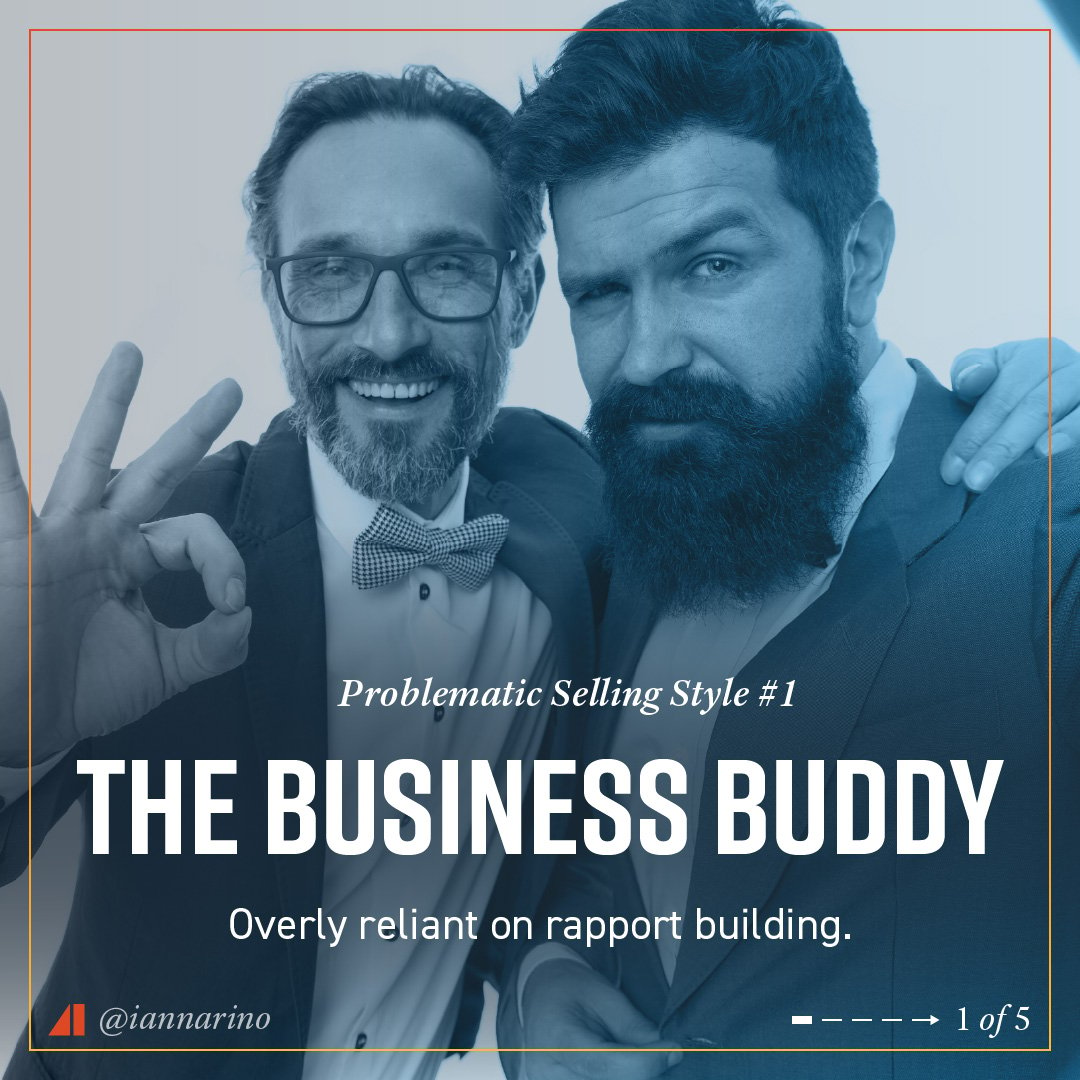 Unfortunately, this sale style was designed for a different time and isn't nearly as helpful as it was when things moved more slowly. Leaders and their teams don't feel they have time to build the rapport the business buddy needs. In the new B2B sales, rapport building has been replaced with a business conversation.
Before doing away with rapport entirely, consider these two caveats:
Some people have instant rapport. It's nothing that is learned, and it can't be taught. These salespeople are not trying to build rapport. If this comes naturally to a salesperson, there's no reason to try to get rid of it.
If you sell in a place where customs demand you build rapport, no matter your sales style, you may have to do some rapport building before your sales conversation.
The True Believer
The true believer has not only drunk the Kool-Aid, they are now making another pitcher and passing cups to everyone they meet. The true believer believes their company is the best company in their industry, and no other company comes close. One way you can identify the true believer is through their need to tell you how long they've been with the company and what they did before they started working there.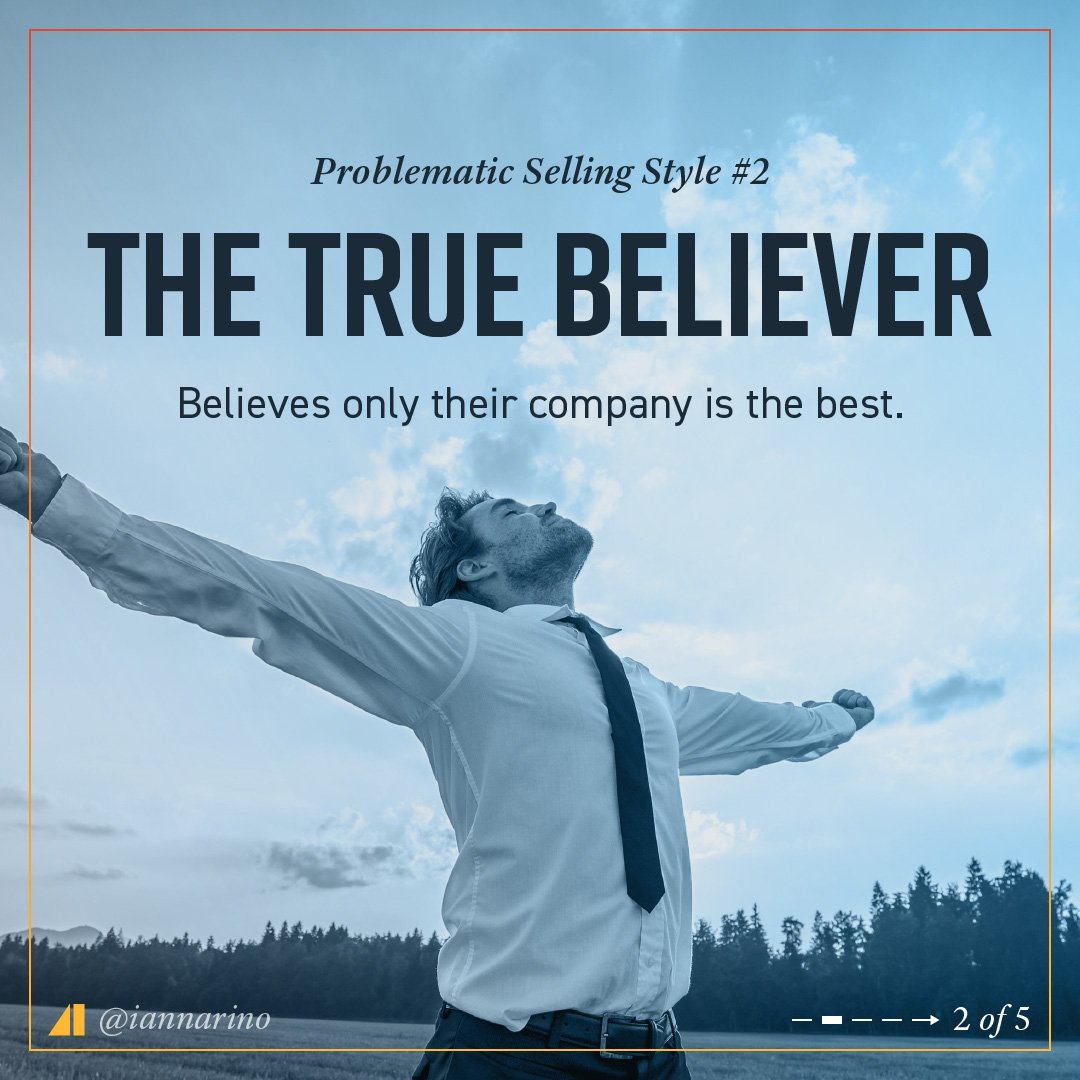 The true believer will start most sentences with we, as in: "We have been in business since 1907," "We have won these awards," "We help these great companies."
True believers fare poorly because they focus on how great their company is, a topic that creates no value for the client. Most leaders and their teams need something different from a first meeting.
The Problem Solver
Problem solvers have a sales style built on eliciting the client's problems. While they might have learned to avoid asking, "What keeps you up at night?" their main goal is finding a problem. With the problem disclosed and out in the open, the problem solver makes their next move, explaining how their solution will solve the problem.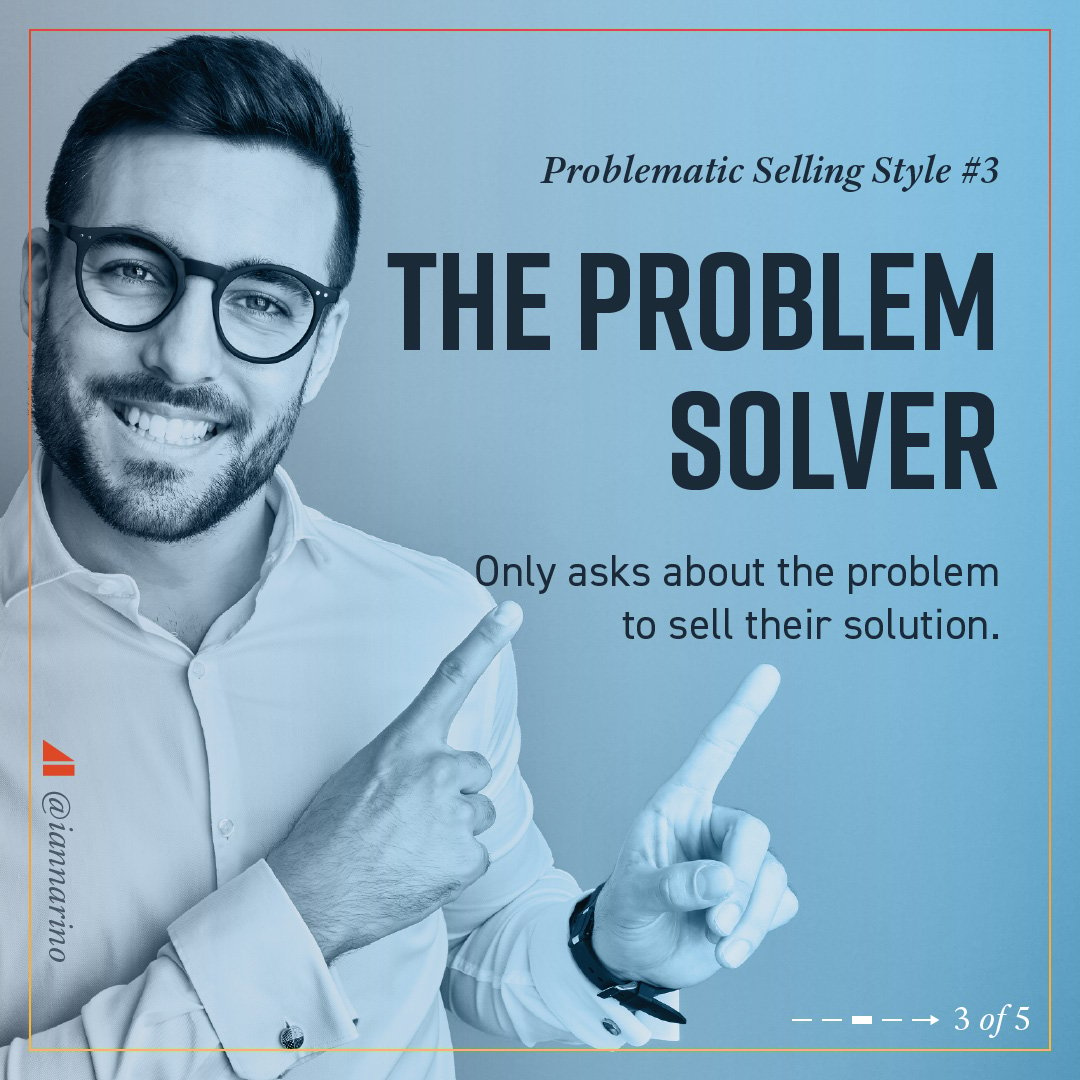 This is a holdover style from legacy approaches. In this way, the problem solver is similar to the true believer. Problem solvers believe their solution is everything and they are unaware that their solution is, at best, only part of what a client needs to get better results. By focusing on the problem that they are aiming to solve, problem solvers overlook the macro issues at the root of their client's challenges. Leaders find these meetings lack depth and compelling insights.
The Talker
Salespeople with this style are guilty of a filibuster-like approach, talking on and on like a senator hoping to prevent a vote on some piece of legislation. Talkers might also remind you of a bad guest who doesn't realize they've overstayed their welcome. Once, it was believed salespeople won business by being good at speaking. They believed speaking made them good communicators, failing to realize that communicating effectively has less to do with what is said and more to do with clarity and listening.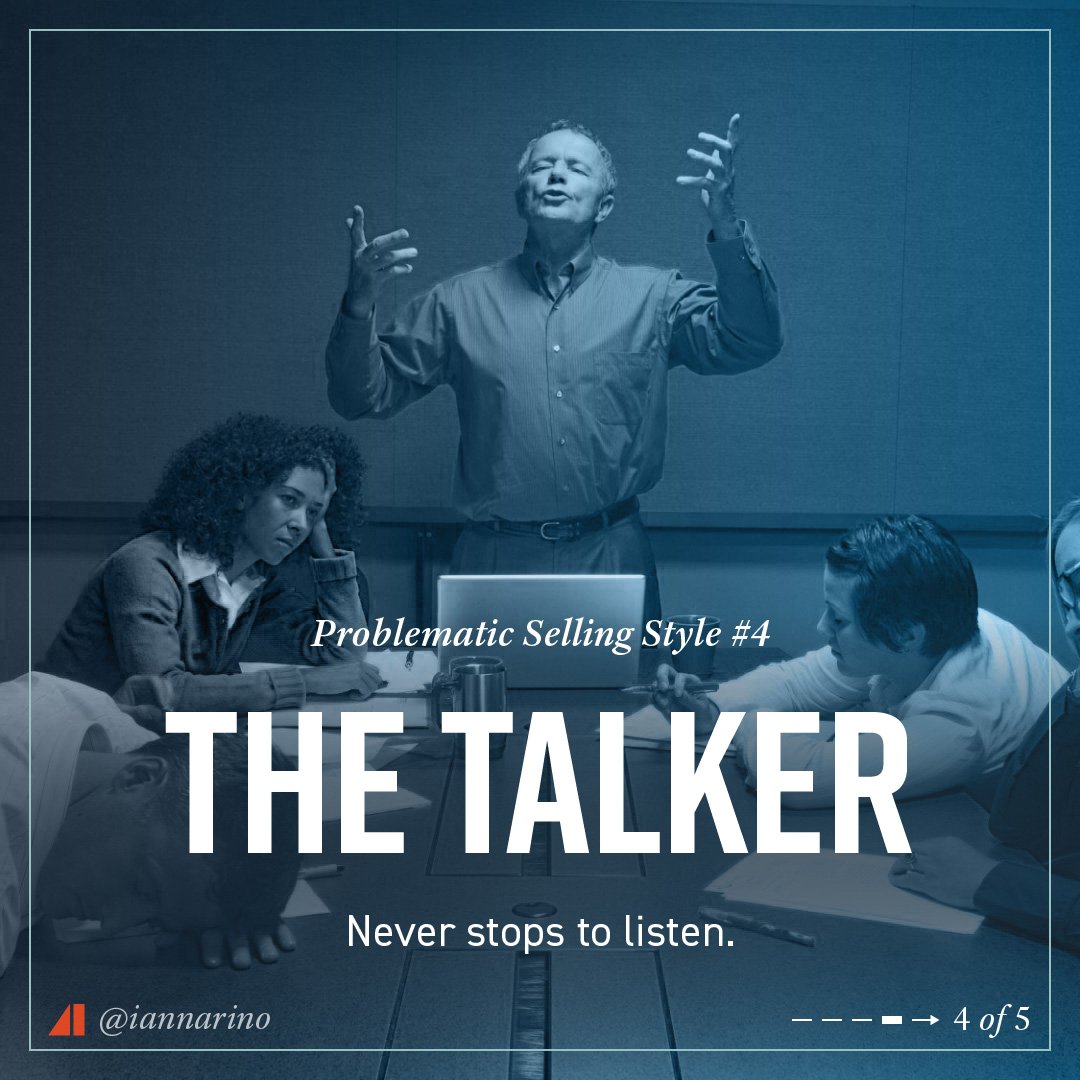 Talkers don't score well with clients. You do much better by being a patient, professional listener. I know there are mathematical equations that claim to have determined how much a salesperson should talk, and what percentage of the total time they should listen. If you don't intuit it's time to go, you may be a talker.
The Bro
The four sales styles we've explored to this point are old. The bro is a newer style. When I fronted a rock-n-roll band, there was an artist (an exaggeration) who named himself Guy Man Dude. This style is a new breed of Guy Man Dudes. The bros are all hyped up about their company, their investors, and how their offering is cool and cutting edge. They will describe their solution (mainly software) as "disrupting the industry," even though it is one of many lookalike products.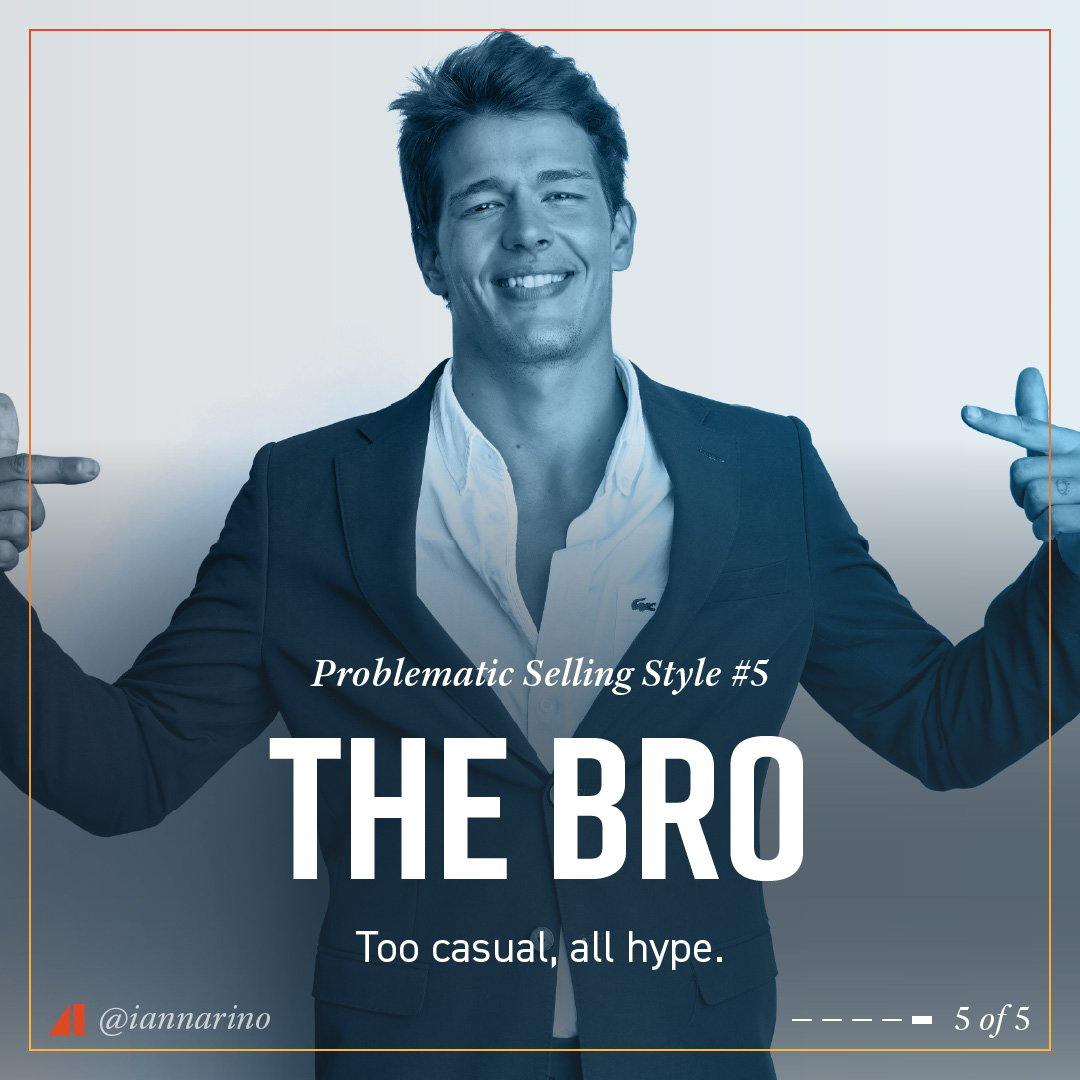 The bro is a little too familiar and far too casual. One bro I listened to responded to a client's concern "How do you deliver better results than other companies?" He answered, "Dude, we're just good." The contact was not impressed. The bro was half right. His company was good, but he was not.
How You Sell > What You Sell
The selling style you need today is what we call One-Up. This style is consultative, and it helps decision makers address the things that prevent them from improving their results. Because a consultative approach creates greater value in the sales conversation, it scores well with clients.
When your clients need help navigating uncertainty and are concerned about making the best decision possible, none of the sales styles above are useful. The salesperson should be capable of helping clients learn and understand what they need to do and why. They provide something more than a promise that their company is trustworthy and their solution the best on earth.
In a book called Eat Their Lunch, I shared the four levels of value. If you start with Level 4, the strategic outcome the client needs, you discover what is important to the client. Then, you work backward to determine the advice and recommendations you offer your client.
The best sales style now is truly consultative.