I wrote a book on how to close complex B2B sales titled The Lost Art of Closing: Winning the 10 Commitments That Drive Sales. The book provides a deep dive into the ten commitments you need to win deals. Here is a summation of the book that will give you a structure for winning big deals.
Meeting: The first thing you are going to need to win an opportunity is to create one. Nothing comes before you acquiring a meeting with one or more contacts who work for your dream client. Opening is the new closing, which is to say, you will never close a deal you don't first open. The first commitment you need is commitment for time.No more pushy sales tactics. The Lost Art of Closing shows you how to proactively lead your customer and close your sales.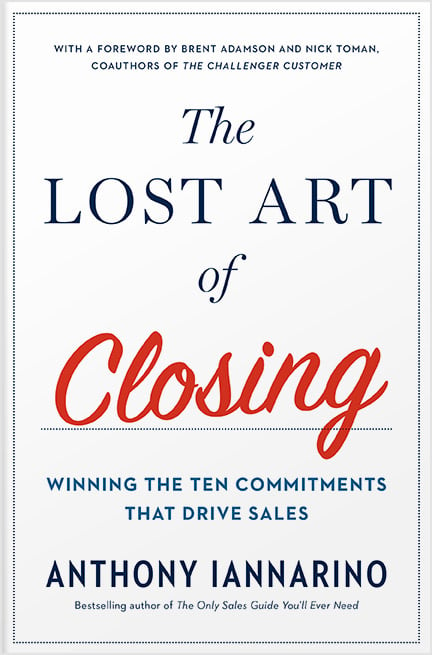 Exploration: In your first meeting, you are going to need to explore change. You cannot create an opportunity if there is no reason for your dream client to do something different. If you are lucky, what you share will help you elicit what is already motivating your contacts to look for answers. When this is not true, your exploration needs to compel change. This is the commitment to explore change.
Confirming Change: You meet a lot of friendly, exciting people in sales. Many of them will enjoy your company, and they will be more than happy to explore change with you without being committed to changing anything. It might take more than one meeting to confirm that it makes sense to push forward in the sales conversation. But it might also turn out that your contacts can't change, or that they are unwilling. Without a real commitment to change, you have no opportunity. This is a commitment to change.
Collaborate: In large, complex, consultative, B2B sales, you are almost sure to have to customize your solution for your prospective client. Some deals may require significant and severe alterations to your answer. Others might need only a tweak here or there. In either case, discovery meetings need to allow your stakeholders to collaborate and dial in a solution they believe is right for them and their company. This is a commitment to collaborate.
Consensus: We tend to think of consensus as something necessary in big deals with big companies. Small companies and B2B buyers who undertake new initiatives also want buy-in from their teams. It's more important than ever that you identify and engage the decision-makers. These are the people who are going to have to say "yes" to your solution and t0 you as a partner if you are going to win their business. This is the commitment to build consensus.
Investment: If you have the highest-priced offering in your category, you may want to move this conversation to the very beginning of your sales conversation, as it may disqualify some of your prospective clients. At some point, maybe after you know what the solution is going to require, you are going to have to share the investment necessary to provide your clients with the new and better results they need. It's better to agree on this before you give a proposal and pricing, obtaining the commitment to invest first.
Review: You can call this a presentation or a proposal. Before you give your client your best advice and a customized solution, you increase your chance of winning by reviewing your plan and solution to make sure it is something they can and will say "yes" to later. If you need to make changes, you want to make them before you hand over your final proposal. This is the commitment to review.
Resolve Concerns: Maybe you covered everything with the stakeholders on your dream client's team, and maybe they are ready to move forward with you and your solution. What puts your deal at risk at this stage of the sales conversation are unresolved concerns. Asking for an opportunity to resolve any concerns can ensure you have the support of the people necessary to award you the business. This is the commitment to resolve concerns.
Decide: Of all the conversations and commitments you need to win a complex B2B sale, this is the easiest. Having had these conversations and gained these commitments, the only things left for you to do is ask the client for their business and begin putting their solution in place.
You win deals long before your prospective client awards their business to you. You also lose deals before your dream client notifies you that decided to "go another direction." Your understanding of the conversations and the commitments your clients need to make provides you with the ability to guide them through the consultative sales process with an approach that will differentiate you from your competition and provide you with a competitive advantage.
In complex, consultative, B2B sales, closing is a process, not a single event.