For a very long time, we in sales have counted on our companies and our solutions to provide differentiation, something that has become increasingly difficult over time. Thankfully, there are factors outside of our companies and our solutions for those of us who work in industries where winning new business often means displacing your competitors. Many of these factors do more to create a preference to work with you and your company than any differentiation outside of the value you create. You now make up a large part of the value proposition, and that means you need to know how to successfully differentiate yourself in sales.
Your Sales Approach: Your approach cannot be something out of the late 1980s or 1990s. Too much has changed, something that is especially important when it comes to the increasing demand is that you create value for your contacts throughout the sales conversation. If you approach beings with a discussion about your company and your solutions, you will have lost your contacts in the first few minutes. Your approach needs to focus on helping your prospective client produce better results.
Your Business Acumen: A primary and fundamental differentiator for salespeople today is business acumen. The role of salesperson now includes the requirement that they are also a business person. You provide your dream client with the ability to prefer you over your competitors when you look, sound, and act like a business person. In a world where there is a glut of competition with little real differentiation, your business acumen provides a factor that creates a preference to work with you and your company.
Your Depth of Understanding: You might think about this as part two of business acumen. I have sometimes referred to this as "developing a theory." You differentiate yourself when you understand the systemic challenges your dream client faces, as well as the root causes. When you can see behind the "presenting problem" and help your contacts make sense of their challenges and their opportunities, you position yourself as someone with greater value than others. The role of a trusted advisor requires that you understand your world and your client's world enough to explain it to them.
Your Questions: The question, "What's keeping you up at night," in all its many variations is not the best. Nor is, "If there is one thing you could change about what your existing partner is doing, what would that be?" Instead, you want to ask questions that elicit the response, "That's a really good question," an indication that you helped your contacts discover something about themselves. One of the more powerful ways you share your insights is by asking questions, something that will differentiate you in a crowded field.
Your Preparedness: Sadly, most salespeople don't prepare very well for meetings. Because they have made many sales calls, they rely on their past experience to be enough to ensure success. When they do prepare, a good part of that preparation goes into building a slide deck. When your contact gives you the gift of their time, you need to put it to good use. If you want to differentiate yourself from your competition, building an agenda for the call that includes a decision or next step, making a list of the questions you need answered, as well as the answers your contacts are going to need to their questions, will make you look all buttoned-up and professional. It will also provide you with differentiation.
Your Follow Through: When you say you are going to do something, do you do it? Do you deliver it in the time that you promised? Your contacts may not say anything, and they may not even follow up with you to ask for what you promised to provide. They do, however, keep an informal scorecard in their head about how well you keep your word. Follow through is not the same as following up. Recognizing the difference will differentiate you.
Your Advice and Counsel: You can sum up the advice most salespeople offer their contacts as, "Buy from us, and we'll help you with your problems," advice that would be just as easy to deliver on the first meeting as the third. There are a couple ideas worth noting here, as it pertains to differentiation. Would the advice you provide your dream client be the same if you were unable to deliver the solution and your competitor was able to? That question tests to ensure that your advice is sound. A follow-up question might be, "What does your client have to do differently as part of your solution?" Your willingness to address the root causes of your dream client's challenges will differentiate you, even if it makes it more challenging to win deals where the stakeholders and unwilling to face their reality.
Your Ability to Provide a Process: Much of the insights you read from research organizations suggests that buyers now have so much power in the relationship with sales organizations that they can dictate how they buy—and how the salesperson sells. The insight leaves out the fact that when you sell, the buyer has always had the power to say yes or no to what you trade in value for their payment. The truth is that buyers have more trouble buying than ever, and they need more help from salespeople. One of the most potent ways you can differentiate yourself is providing more support with the process. Helping your clients to have the conversations necessary to make a good decision will make you a stand out.No more pushy sales tactics. The Lost Art of Closing shows you how to proactively lead your customer and close your sales.
In large measure, selling is about creating value and creating a preference to work with you. If you want to create a preference, you need to differentiate yourself from your many competitors.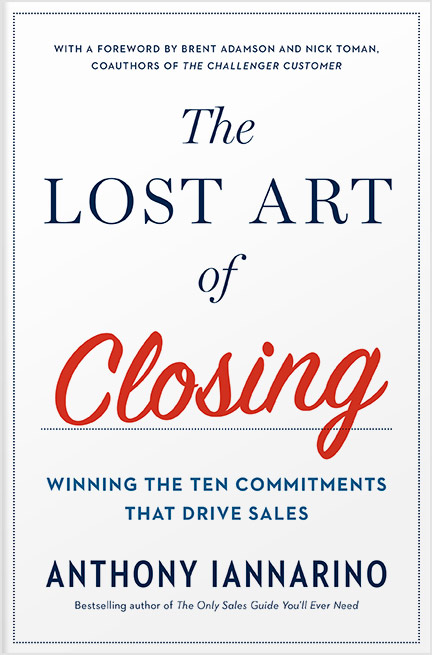 Essential Reading!
Get my 2nd book: The Lost Art of Closing
"In The Lost Art of Closing, Anthony proves that the final commitment can actually be one of the easiest parts of the sales process—if you've set it up properly with other commitments that have to happen long before the close. The key is to lead customers through a series of necessary steps designed to prevent a purchase stall."
Buy Now