Search the internet and the social channels, and you will no end of bad ideas and even worse advice. Some of the advice will be supported by "data," a survey used to prove the idea, even if it is weak, poorly constructed, and taken out of context.
Of all of the bad advice around sales, the most reckless and worst counsel you will read from charlatans and know-nothings is the idea that your buyer has all the power in the relationship, that they are some large percentage through their buying process, and that you should wait for them to reach out to you.
They Don't Know What They Don't Know
Just like you and I don't know what we don't know, your dream clients don't know what they don't know. The contacts you call on may not yet recognize a threat to their business or an opportunity that is available to them.
The fact that there is information available to them on the internet is no indication that they have seen, read, studied, or made sense of the trends or factors that will impact their business. Even having seen something important, they may not have recognized the implication, good or bad.
Your contacts work for a company, and they know what their company does. It's unlikely that they know what other companies are doing differently, what others decided to change that had been the industry for decades, or how they might improve their results now.
In part, your job as a consultative salesperson is to inform your clients and prospects.
You Know More or Should
What you know from serving your clients should provide a different kind of knowledge than one might find by reading websites. Even though I can describe ideas and concepts to you, you will never really know them unless you take action and experience them for yourself, which is why the practitioner always performs better than the theorist. Because you and your company has many clients, you have a different view, one that has more data points and should provide a richer set of experiences and insights.
How might one be consultative when they know less than their prospective client about the area in which they intend to provide counsel? How could one ever hope to be a trusted advisor when they cannot offer advice. And here I must remind you that your company's history is not advice, nor are your products, services, or solutions. Your point of view and your direction on what your clients should do differently, why they should change, and how it will improve their results is advice.
You can call this "the relevance test." Your relevance is what you know that your client doesn't know. It shows up in your experience, your point of view, and how helpful you are when it comes to making the right decisions around things that are important to your client's future.
They Shouldn't Have to Be Dissatisfied
So your client doesn't know what they don't know, and you know more than them. That's all fine and good, but that being true, you are obligated to help your clients and prospects.
The horrible idea that you should wait for your buyer to be dissatisfied before you engage with them is an abdication of your responsibility to do good work and make a difference. Marketers think in terms of awareness, the idea that your prospect is aware of their problem and aware of you as a potential partner, should they decide they need help. Salespeople carry a different burden.
There is no reason for you to wait for your dream client to become dissatisfied before you decide to help them. A lifeguard doesn't wait until a drowning person calls for help to decide to swim out to them and bring them safely back dry land. How does it benefit your prospective clients to wait until they are harmed or in grave danger before they do something to prevent it?
To believe you should wait for your prospective B2B buyer to reach out to you for help is not only poor advice, but it also removes the likelihood that you will ever be a trusted advisor. The simple fact that you knew some challenges were going to impact your clients, dream clients, or prospects and did nothing while waiting for them to ask for your help means you lacked the prescience, or you are too lazy, inept, or entitled to do something before they hurt themselves.
No Part of Your Advice Requires Waiting
There is no part of being consultative in complex, B2B sales that requires you to wait for your client to ask for the advice. You are, in fact, empowered to provide the advice at a time of your choosing, provided you can successfully gain the commitment for time by promising enough value to command a meeting, something necessary in a modern B2B sales approach.
There is no reason for your contacts to wait to make changes that will improve their results. There is also no good reason for you to wait to meet with your contacts to share your theory about what they might need to differently and how it will improve their position.
Unless, of course, you prefer to wait for your proactive competitor to capture their mindshare, wired the building by building relationships, and wait to be column-fodder for the eventual RFP you will be overjoyed to receive since you aren't out creating opportunities.
When something is important, there is rarely a good reason to wait to take action. Better results now are better than better results eighteen months from now, having suffered through that period with poor results, something that is true for both you and your dream clients.
It's Not How Selling Works
The charlatans that would have you wait have no understanding of how modern sales works. The terms that we use to describe people with sales titles that don't prospect, aren't proactive, and can't offer advice to their clients is "order-takers." To be an order-taker is to be something less than a salesperson, and something much less than consultative, and one who could never hope to be described by their customers as a trusted advisor.
Professional B2B salespeople and B2B sales teams don't wait for opportunities to come to them. Instead, they create opportunities. They don't wait for their clients to become dissatisfied; they compel them to take action before they suffer the negative consequences of having waited too long to act.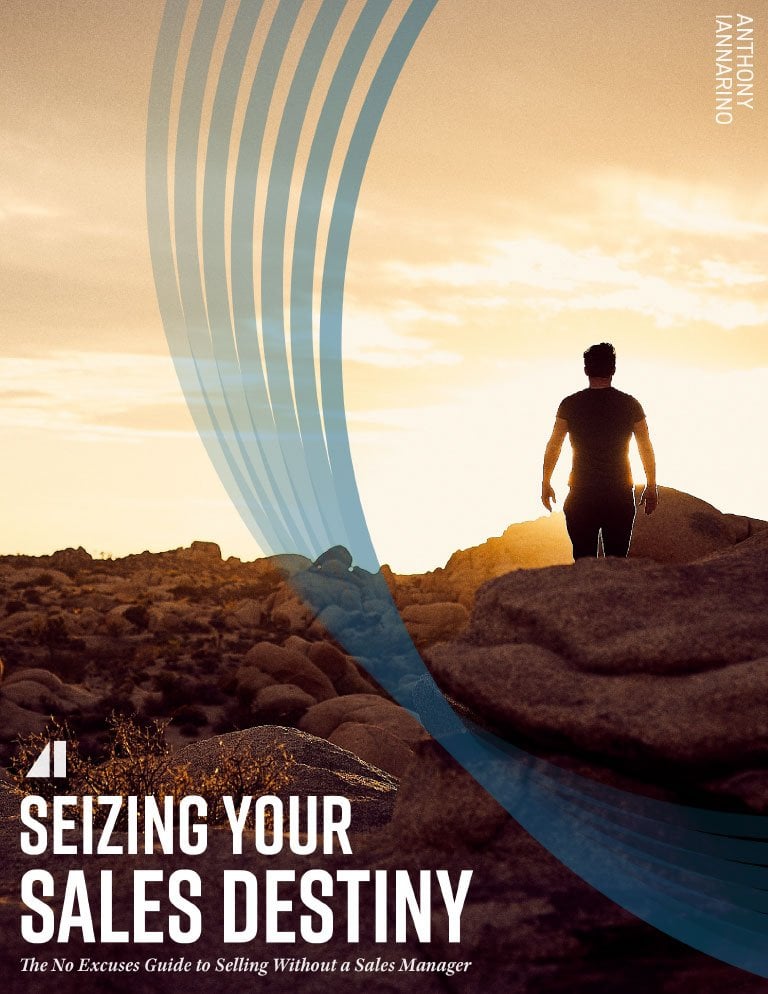 Get the Free eBook!
Learn how to sell without a sales manager. Download my free eBook!
You need to make sales. You need help now. We've got you covered. This eBook will help you Seize Your Sales Destiny, with or without a manager.
Download Now