There is no reason to spend time with people and companies who cannot benefit from what you sell. When you target individual companies, you eliminate the kind of companies that do not need what you sell or can in no way benefit from your general value proposition. Targeting is a way of disqualifying non-prospects and focus on those companies who will benefit from the better outcomes you can offer them.
Many sales organizations and salespeople tend to over-qualify prospective clients and targets, using filters that are so tight that very few prospects become opportunities. The over-qualification of these companies creates problems in creating enough new opportunities by allowing salespeople to disqualify companies that they should pursue—even though they may not make it through their qualifying filters.
Budget: Were you to disqualify a company because there isn't already a budget to buy what you sell, you would miss opportunities where your value proposition is important to them. They might acquire the budget or find the money they need to invest in better results. Disqualifying a company that doesn't value the outcomes you sell is important, but eliminating a prospect because they haven't gotten the money assumes your prospect can't acquire the money.
Authority: Who can tell you with any certainty who "the" authority is in any reasonably large deal—or a relatively small deal? The reality of the nonlinear nature of the sales conversation and the even more uneven buying process is that there will be more people necessary to a deal, including an executive sponsor or someone who can agree to a contract and move forward with your solution. If the person or persons necessary to a deal need to be identified before you can call a prospect qualified, you are going to have an unnecessarily small number of prospects.
Need: The difference between finding opportunities and creating them are many, but we can break them down into two primary characteristics. You see an opportunity when you have a prospect that is actively looking to buy what you sell, having already established a need. Just reading that sentence should strike you as being way too limiting even to consider being useful. We are mostly charged with creating opportunities, including creating the need when it doesn't yet exist.
Time-Bound: This idea is also incredibly out of step with sales today. For most of us, a client could go live with a solution on May 1st or June 1st without risking or giving up much. The idea that the client should already be compelled without the salesperson having to make the case for starting sooner and providing a rationale is to allow the salesperson to walk away from opportunities because the client isn't committed to a date.
None of these ideas are unimportant to a deal. But taken by themselves or as a collection, they need over-qualify deals.
Metrics: There is nothing wrong with the idea of being able to quantify the economic value to your prospective client. In fact, in many deals, it is necessary, and something the client needs to make an internal business case. But it isn't easy to use as a qualifying factor, especially not a "go" or "no go" decision on pursuing a prospective client. In many types of sales, the soft costs are difficult to quantify, and in others, you'll need to get deep into discovery—or maybe even solution design—before you can determine the value of the deal to the client.
Economic Buyer: One of the significant business changes is that managers have financial responsibility for their area. The responsibility has been pushed down to the person with direct control in many cases. Because decision-makers seek consensus, there may be multiple economic buyers. You may or may not be able to discover who you need until you have spent time working with the contacts who have engaged with you around a potential opportunity.
Decision Criteria: This is another one of those requirements that can not—and should not—be used to qualify a prospect, especially when you can shape those requirements throughout the sales conversation. Mostly, the reason that this isn't a good way to qualify is that it assumes your client already knows exactly what they need and that they are correct in their belief that there is nothing they might learn that would change and improve their assumptions.
Decision Process: When the decision process is one your contacts can explain to you, you are likely to have received an RFP or will soon find one in your inbox. When there are multiple people engaged in a conversation around change outside of an RFP or a deal led by a professional purchasing function, you are better off believing that you are going to have to help guide their process. Even asking the question early in the conversation doesn't do anything to eliminate the nonlinearity of decision-making.
Identify Pain: Again, another factor that suggests that the contact and their company have already decided they have a problem worth solving and that the salesperson's job is to ask them about their pain points and hot buttons and the source of their insomnia and heartburn.
Champion: There is every reason to have key contacts that will help shepherd an opportunity. There is no deal if there isn't a key contact, but it's more likely that you will need multiple "champions" or "power sponsors" or "mobilizers" to win a deal successfully.
There is value in using all of these factors and criteria as you create and pursue opportunities. They help ensure you win deals and make sure you acquire them as you engage in the critical sales conversation. But deciding that all of these factors must already be present is to over-qualify by using filters that are out of step with how you need to sell in the 21st Century.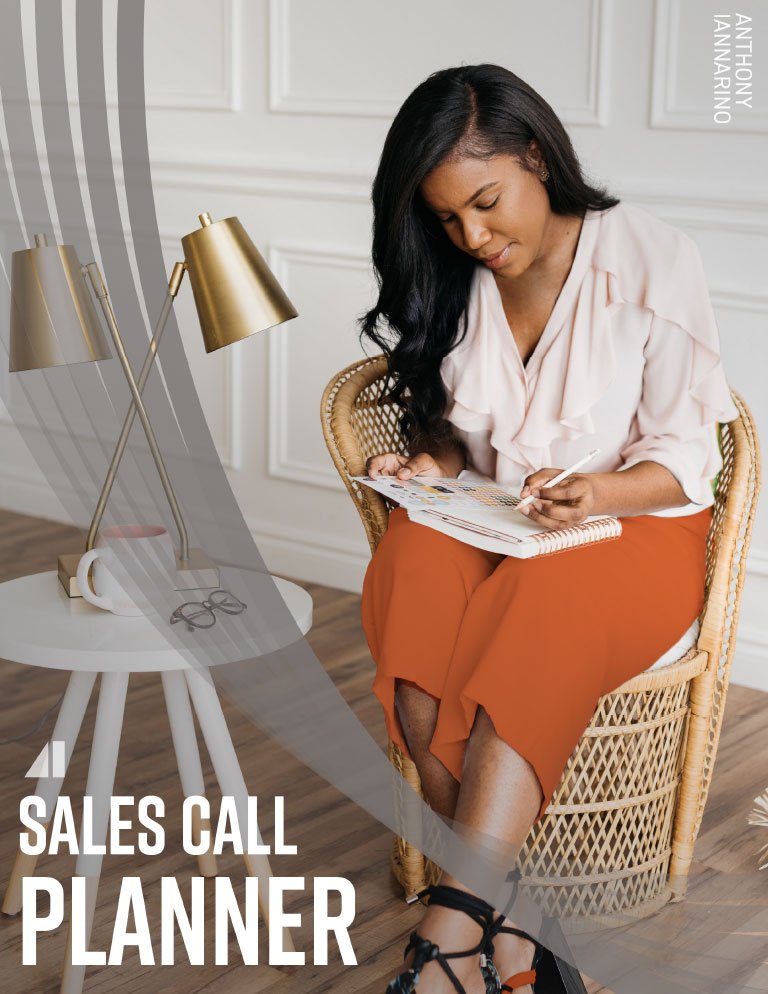 Get the Free eBook!
Sales Call Planner Guide
Your dream client expects you to know how to help them and what that process should look like. Execute your best sales calls with this free sales call planner!
Download Now