I have had a number of people complain to me over the years that I post too often. They complain that they don't have time to keep up. But I don't write every day because I expect you to show up here every day. I write because I am a writer, because I can't go without writing every day. I also know that what I write might not be helpful to you now, but that it will be here when—and if—you ever need it.
I also know that some people zip through the archives when they want to, and I have tried to arrange those archives to make it easy to find things. At some point, I am going to go back and tag each of the posts. I wish I would have done that as I published them.
Still others have suggested that I record a podcast because they would prefer to listen to these posts. I'd love to do a podcast or a video blog, but my time is limited. I have been recording videos in a studio, and I'll be sharing those soon.
More than a few of you has asked for a mobile theme, so I installed one. You can read this formatted for your mobile device. It works well, too. But none of the mobile themes are as nice as this theme.
Each of us has our own communication preferences. It's hard to give each individual exactly what they need, but here are a few ideas about how you can read this blog and make it work for your communication preferences.
Get an Email Subscription
If you subscribe to this blog, each day you will get the post emailed directly to your inbox. Some of you will love it that you don't have to browse here to get the post. But others will hate the idea of yet another email piling into their already overstuffed inbox. I understand both of those sentiments completely. Look for this box in the column to the right.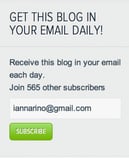 Subscribe to the TSB Newsletter
My newsletter isn't the content from this blog. It's unique content that I only send to the group of people who have chosen to join that community. I have recently decided to make the newsletter more predictable, and following my friend Chris Brogan's lead, I am sending it Sunday morning each week (you should subscribe to his newsletter too). I also promote some free and some paid webinars to this newsletter group.
If you want to receive the newsletter, you can sign up in the Newsletter box at the inner column on this page, or you can sign up for the Cold Calling eBook by filing out the for at the bottom of this page. Look for this box:

Subscribe to the Tribe and Share This Content
Some of you have asked me for a way to share this content with your sales teams. That wasn't easy to do before now, but my friends at Triberr built a tool to make it easy for you to share.
If you want to sign up to receive this blog in your email and automatically share it, here is where you can go to sign up. By subscribing here, my posts will show up in the social streams that you choose. It's free, and it's easy.
Thanks for being here. I'll do my best to make it work for your communication preferences.