Despite our best efforts to see both the sales process and buyer's journey as linear, reality provides a truth that is at odds with what might better serve us—and our clients. In complex, B2B sales, it is more often that deals take a circuitous path, doubling back over ground you have already covered, and full of fits and starts. Because reality doesn't care about your feelings, you are better off working to make nonlinearity a competitive advantage.
Why It's Gone All Pear-Shaped
In times past, you might have identified "the decision-maker," the single person necessary to bind their company to a deal. For several reasons, it isn't likely that you'll find this elusive stakeholder.
Deals go pear-shaped these reasons and more that are too many and varied to include here. However, it is not all bad news. You can turn these challenges into an opportunity to create a competitive advantage.
Confusion Provides Opportunity
One of the many ways you create value for your client is by helping your dream client make sense of the complicated process of buying when it is almost sure to be nonlinear (i.e., not an RFP). When your prospect doesn't have a process—or doesn't know it's a nonlinear process—you create value by sharing with them what they have to do to move from their current state to the better future state they need.
Because you (and your company) have helped dozens, hundreds, or thousands of companies solve a similar problem, your experience provides you with a framework for knowing what they need to do. Moreover, because you know the process is nonlinear, you know to share with them the fact that they are going to need to include other people in the process. You also understand that gaining an executive sponsor who is willing to sponsor—and defend—the change initiative is better sooner than later.
One of the best things you can do to create a preference to work with you is providing your prospective the experience of working with you and your team. If you know "how" to get what they want, you distinguish yourself in a crowded field. Although the field may be full, few realize they are involved in a nonlinear process, and even less know what to do about it.
What Your Competitor Doesn't Know
The companies and salespeople against whom you compete may not know that the process is nonlinear. I offer as evidence pipelines where deals move smoothly forward and never backward. I also offer up evidence in the form of deals that are old enough to apply for social security without being removed from the pipeline (or in some cases, a forecast). They have no theory where the deal is, why it is stalled, or what to do about it. (Fortunately for you, not everyone cares enough about their craft to read blogs and books. Fewer still invest in any training or development).
Your competitor may not know that the power sponsor they have been developing for months is not "the authority." They may not know that the person is not able—or willing—to make the decision themselves. They also have no idea what a poor strategy is being single-threaded in a deal of any significant size. Your competitor may not know they are working a contact with the authority to say no without the power to say yes.
What your competitor doesn't know hurts them and helps you. Your awareness allows you to generate choices unavailable to someone who is following what they believe to be a rigid process.
Control the Process. Or Influence It.
You cannot make the process linear if it isn't to be. When I write the words "control the process," I am describing a procedure whereby you sell a meeting, you sell the process, and then you sell your solution. Part of the value you create is consulting your client on what they need to do next. In The Lost Art of Closing: Winning the 10 Commitments That Drive Sales, I outlined the commitments that seem to occur most often in B2B sales, along with advice as to how you have those conversations with your dream clients.No more pushy sales tactics. The Lost Art of Closing shows you how to proactively lead your customer and close your sales.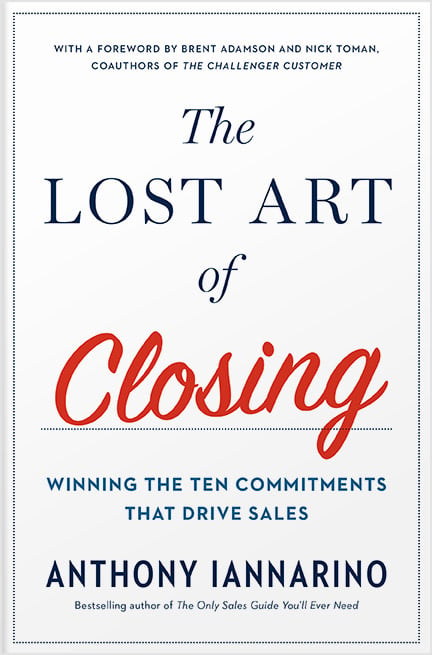 The fact that process is nonlinear (when it is) is an opportunity to provide a structured approach, next steps, and the value of having the necessary conversations that allows your dream client to move forward. You fill the vacuum by using your experience to advise your prospect on what they need to do, how they need to do it, and the benefits that follow. Because you have the experience, you know where you and your dream client will run into difficulty and how to avoid it—or work through it.
Winning deals can be more difficult because they are nonlinear, but that doesn't have to reduce your likelihood of winning them. Your awareness and your ability to influence the process helps you keep deals progressing, even if they sometimes move one step forward only to take two steps later back.