As a financial advisor, your clients invest in you, not just your service.
They want to know how you can solve their problems and help them create financial wealth for themselves and their families. The traditional approach of 'build it and they will come' is dead. You need to find a way to give people what they want, offer something nobody else does and promote yourself.
You don't have to figure all of this out yourself. You can and must lean into sales training and create value before booking calls. Modern sales approaches are the way to go if you want to discover how to differentiate yourself from your competition and guide sales conversations effectively.
This article lists my five top training programs to help your financial advice service prospect, book calls, and crush your sales targets. Let's dive in!
Financial Advisor Sales Training Programs
Sales training gets a bad rap. Many reps feel like training is a waste of time and doesn't deliver results.
In some ways, that reputation is earned. Sales reps have had poor experiences with sales training, and it's all too easy to tarnish every course with the same brush.
But, done correctly, sales training will help you communicate the value of your services and the level of expertise you bring to prospective clients.
It's essential to build rapport and trust with clients. Once you've built that trust, your prospects are more likely to trust you with their time and hard-earned money. You'll also have the skills to differentiate yourself from lower-priced competitors and online tools.
If you don't find the right training program, you'll invest wasted time, money, and effort that you could spend driving growth in your business. You might end up driving potential clients away with poor sales approaches.
It's crucial to nail the art of the sales process. To do that, you need a consultative and modern approach that gains commitment during the whole sales process.
What Should You Look For in a Sales Training Program?
Every client has similarities, but your conversations might go differently depending on their specific pain points. A modern, collaborative sales approach solves for this.
So how do you train sales professionals to have the most impact? First, you need to ask:
Where do your sales reps run into issues in the sales process? Is it…
Creating value?
Building rapport?
Steering the conversation?
Closing?
Through guided training, you can pinpoint where they need help and build confidence in those areas.
Every training program should be customizable, and once training is complete, does the program guarantee that sales reps won't fall back into old patterns? If not, you're not getting full value from training.
Finally, is there any proof of success? You need to know that your chosen training program has worked for other teams.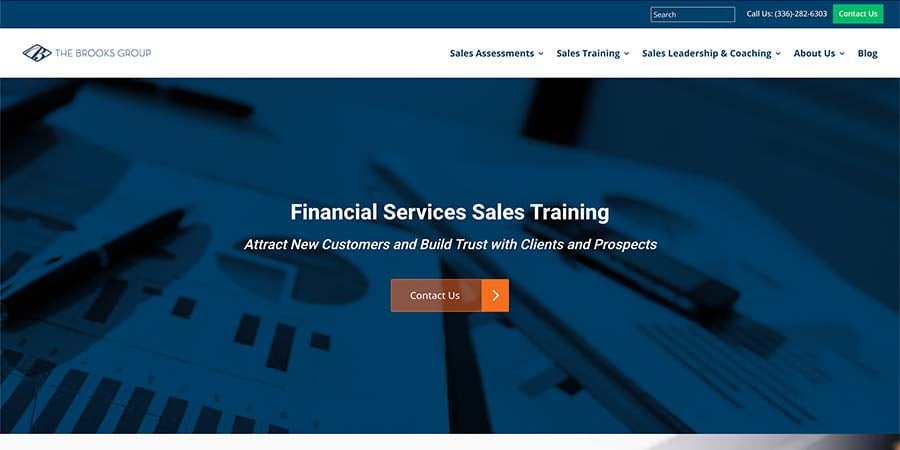 The Brooks Group's approach to financial services training aims to help sales reps establish trust and credibility as expert advisors.
They use a three-pronged approach, including hiring assessments to ensure the right people are in place to grow your business, customized training through their IMPACT method, and reinforcement programs to ensure reps don't revert back to old habits.
Pricing: Book a consultation for a customized solution.
What customers say: "What I've picked up these past 2 and a half days is a process for me to go home and effectively lead my sales team" - The Brooks Group User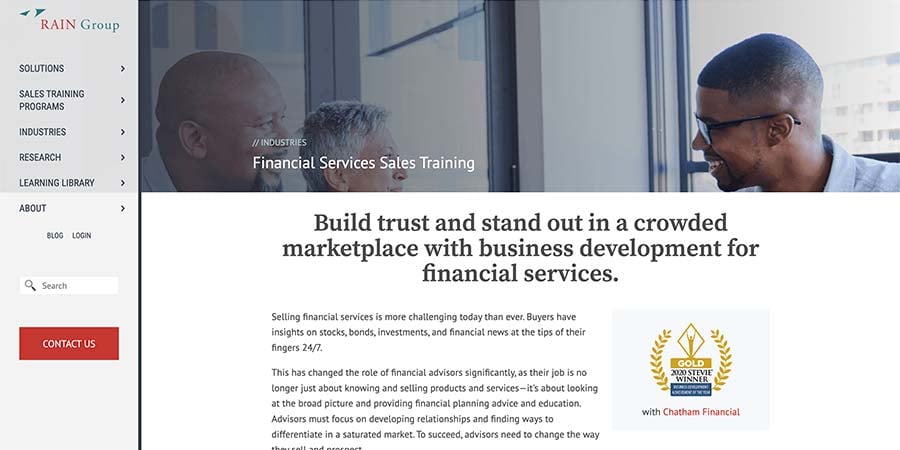 2. RAIN Group - Financial Services Sales Training
With financial services expertise, the RAIN Group knows that bringing valuable advice to buyers is the best way to engage in conversations that lead to new business and generate internal referrals to grow accounts.
Their approach is geared towards behavior change rather than training, and their education system includes assessments, program customization, and reinforcement. They offer a range of sales training programs, consulting, and coaching:
Sales Training
Sales Assessments
Sales Coaching
Online Sales Training
Sales Performance Improvement Consulting
Strategic Account Management
Pricing: Request a Consultation
What customers say: "Our team learned they can't just assume someone is going to respond to email. They have to call them and explore other ways to connect. They're finding people with similar connections and asking for their help in making introductions." - Rain Group User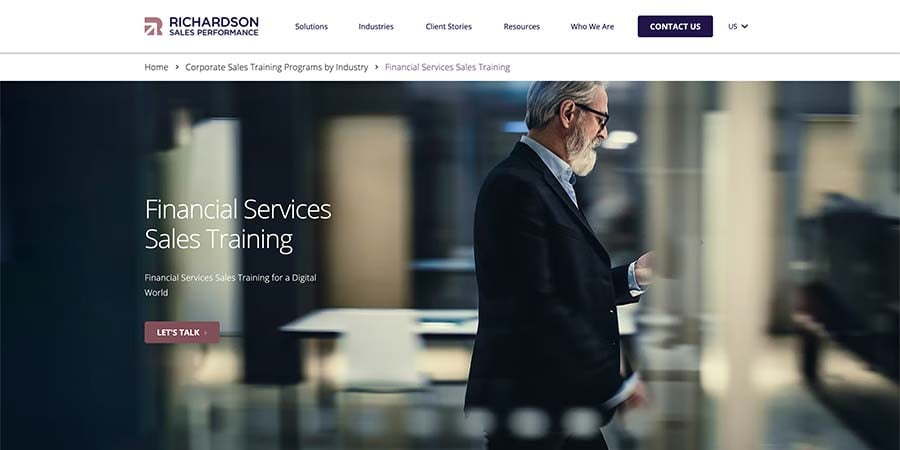 3. Richardson Sales Performance - Financial Services Sales Training for a Digital World
Richardson Sales Performance designs the learning experience around a company's specific, ground-level needs. They seek to understand goals and customize their program design.
Their programs include:
Sprint Sales Coaching: For managers who want to help team members self-discover and use their strengths.
Sprint Prospecting: For sales professionals who need to get to the customer's needs faster.
Consultative Selling: Equips financial sales professionals with the skills to understand those needs faster.
Enhanced Service for Retail Banking: Teaches retail banking professionals to deliver exemplary customer service.
Pricing: Get in touch to build a customized quote
What customers say: "The Microsoft Solution Selling Process allows us to forecast accurately and sell consistently worldwide. To change the culture of the company and put the customer at the front of our thinking, MSSP had to permeate through the entire company." Richardson Sales Performance User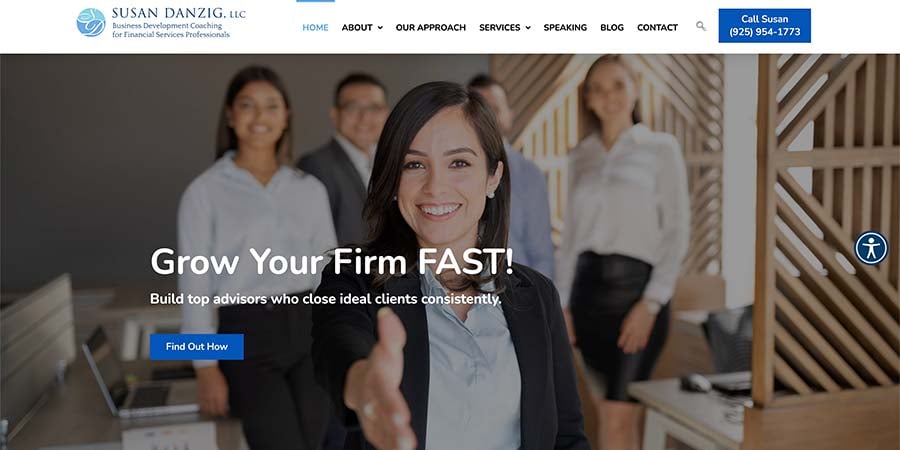 4. Susan Danzig - Financial Advisor Success Training (FAST) Program
Suzan Danzigs want to help you "build top advisors who close ideal clients consistently."
Her approach is born out of twenty years of experience in financial services. Through the FAST program, financial advisors can learn to accelerate business growth by building a personal brand and creating an individualized 90-day sales plan.
The sales plan teaches advisors how to attract clients, book more meetings, and overcome objections. Training is provided through one-on-one or small group sessions and includes training modules, workbooks, scripts, and templates.
Pricing: Schedule a Free Consult
What customers say: "If you're looking for a business development and marketing system that trains advisors on critical marketing and sales skills to reach their AUM goals, then I highly recommend the FAST program." - FAST user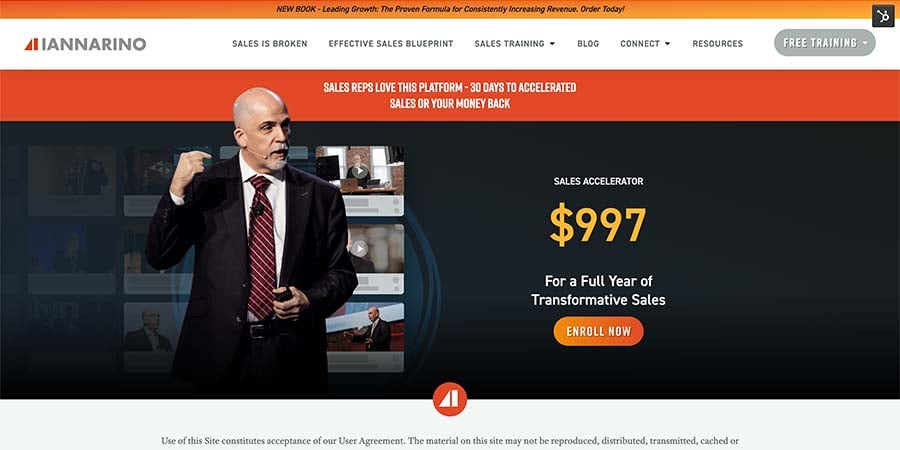 To build trust with prospects, especially in the financial services sector, you need to establish authority and deeply understand the nature and root causes of your client's problems.
To understand what a client needs, sales reps need to get into the One-Up mindset. This is a game-changer for sales reps who want to provide insights, educate clients, and create value in every conversation.
Through my Sales Accelerator program, sales reps enable themselves with the mindset, skill sets, strategies, and tactics to win sales.
There are hundreds of lessons, scripts and workbooks, access to live events, and training certificates to help you develop the skills necessary to maximize sales effectiveness.
Pricing: $997 for a Full Year of Transformative Sales
What customers say: "Thanks to the Sales Accelerator, my sales team has the resources to learn and fulfill their job responsibilities. It has been the best investment we have ever made." - Sales Accelerator User
Financial Advisor Sales Training Programs: Crush Your Sales Targets
As a financial advisor or owner of a practice, you need a modern, fully customizable approach to sales. Financial advisors need to sell in the same way a doctor sells you on the idea of taking your medicine–in other words–you need financial advice to succeed.
A problem-solution and benefits-over-features approach is the way forward in modern sales. Before pushing a solution, you first need to understand the problems your prospects face. Why would a prospect be interested in financial planning? You need to find out their issues and tailor your services.
Most importantly, you need to build the know, like, and trust relationship that shows you're invested in helping your clients win, not just sell them a one-size-fits-all solution.
Discover how to advance a sale and hit aggressive sales targets with the Sales Accelerator!