Outside of door-to-door sales, there may not be a better first role in sales than Sales Development Representative. Because your purpose is primarily prospecting, you build the habit of scheduling meetings that you can convert into opportunities. You also overcome any fear you might have had over calling prospects, something that prevents many in sales from succeeding. If you are an SDR and you want to make the jump to the next level, follow these steps:
Succeed In Your Current Role: The most important thing for you to do to work your way from Sales Development Representative to a full-fledged salesperson is to succeed in your current role. There is no doubt that it can feel like your job is difficult when your primary responsibility is gaining the Commitment for Time. The job that comes after the role of SDR requires you obtain many more difficult commitments. If you want a shot at the next level, start by succeeding where you are.No more pushy sales tactics. The Lost Art of Closing shows you how to proactively lead your customer and close your sales.
Make Certain Your Manager Knows Your Aspirations: It may seem to you as though you should wait until you do the other things in this post before you express your desire to move into a more significant role in the future. By making your manager aware of what you want, the things that follow are going to prove that you are willing to do the work, to develop and grow, and to earn the opportunity for the next role. You want credit for the job you are doing, and by making your manager aware of your ambition, you provide the context for your actions.
Develop Your Sales Acumen: There are two major areas you need to develop while you are in an entry-level sales role: 1). Sales Acumen, and 2). Business Acumen. There are fundamentals of sales that are critical to success, like making cold calls, resolving concerns (something you will recognize as overcoming objections), gaining the Commitment for Time, as well as learning to ask qualifying questions without your prospective client feeling that you are qualifying them. You will find the fundamentals of sales in The Only Sales Guide You'll Ever Need.Learn Anthony's core strategies & tactics for sales success at any level with The Only Sales Guide You'll Ever Need
Grow Your Business Acumen: The title Sales Development Representative indicates you are in business-to-business sales. You are a salesperson, but it's crucial you also become a businessperson. A good starting point is understanding how your business makes money, your competitive strategy, and how you create value for your clients. It's also essential to know how your client's business works, how they make money, their strategy, and the factors that drive their business. If you want to accelerate your speed in acquiring business acumen, I implore you to watch or listen to the morning shows on CNBC as often as possible.
Learn How to Talk to Prospects: Your role limits your client conversations to the early stages of the sales conversation, an excellent place to start. Even though you are going to hand off the opportunity to a teammate, you can use this time to learn how to speak to clients, paying attention to what works and what doesn't, developing your talk tracks, and stealing shamelessly from your peers. The more competent you are in client conversations, the more your confidence will grow. Even though the dialogue is critical, there is another competency you need to gain.
Learn How to Create Value for Prospects: One of the more challenging things about being an SDR is the fact that your role is limited, mostly made up of heavy prospecting, qualifying, and perhaps providing a demo. Not very many prospects find interruptions as valuable, nor do they believe old school BANT questions useful to them. You need to do these things, but your approach matters. The more adept you become at asking insightful questions, qualifying without it feeling like you are doing so, and conducting a demo that is a sales conversation about improving outcomes, the better prepared you are for the next role.
Listen In on Your Account Executive's Sales Calls: If it is possible for you to listen in on your Account Executive's sales meetings, you can increase your understanding of what is going to be expected of you when you move into the role. You are also preparing yourself for that role by picking up the talk tracks and strategies to move deals forward. Let's say you listen to three sales conversations each week. By the end of a year, you will have heard —and deconstructed—one hundred and fifty conversations further into the sales conversation, giving yourself an education in how to succeed in those calls.
Ask for the Opportunity: You're in sales, and that means you ask. It isn't easy to put someone in a role that requires asking for ink and money when they aren't willing to ask for the job they want. Make it known you want the opportunity, and ask for it.
If you take the steps listed here, you will have earned the right to compete for the next role, and there isn't going to be anyone on your team who has done as much to deserve it.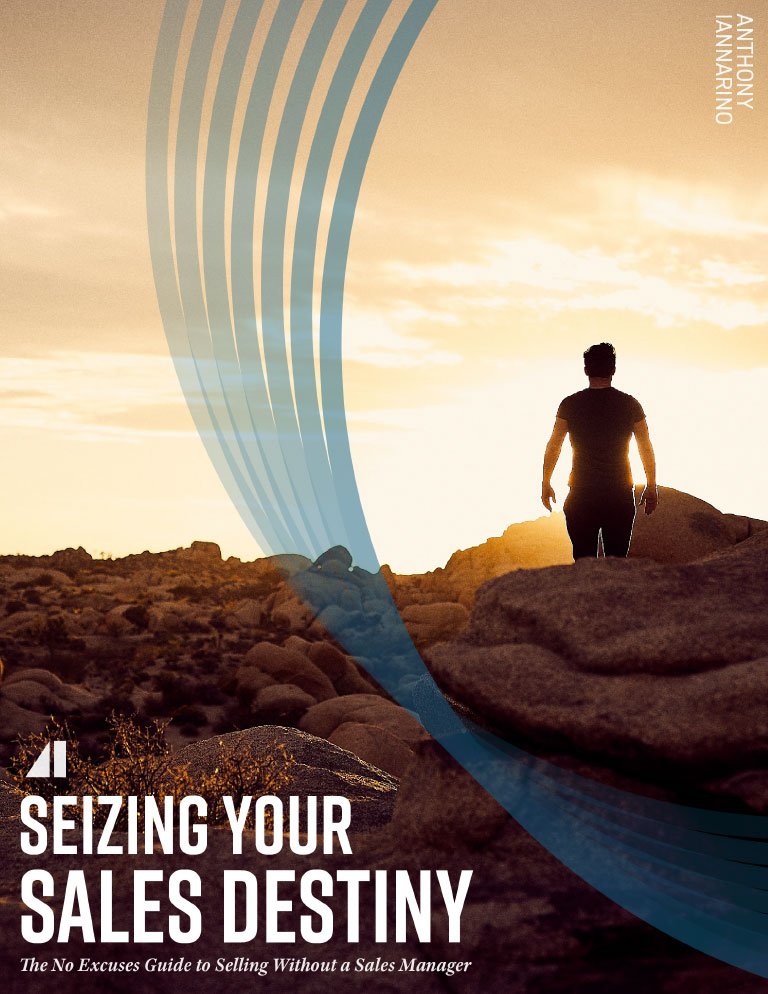 Get the Free eBook!
Learn how to sell without a sales manager. Download my free eBook!
You need to make sales. You need help now. We've got you covered. This eBook will help you Seize Your Sales Destiny, with or without a manager.
Download Now