The Gist
There are enormous differences between a salesperson and a consultative salesperson.
Being truly consultative requires a modern sales approach and a number of higher-level competencies.
The path to becoming consultative requires exerting yourself to gain these competencies and become a business advisor.
Providing a Higher-Resolution Lens
One of the primary competencies of a truly consultative salesperson is the ability to provide their prospective clients with a higher-resolution lens through which to view their business and make decisions about their future. The lens the consultative salesperson provides is made up of insights, trends, and experience—and backed up by facts, data, and results.
What makes one a consultant is being able to provide a client with a clearer view of their business and the context necessary to understand where they are located. The salesperson is always learning from their clients, but modern discovery also means helping your client discover something about themselves.

Predicting the Future
A large part of the value of the consultative salesperson's insights and situational knowledge is preventative: by predicting the impact and the implications of significant trends, factors, and events, they can identify and avoid negative consequences for their clients and prospects. If you aspire to be a trusted advisor to your clients, your advice must help prevent them from making mistakes that would harm their business.
Compelling Change
Any modern consultative sales approach must include the ability to compel the client to change. Legacy sales approaches assume that the client is already compelled by some dissatisfaction and will always have a well-formed problem statement, but that's no longer an accurate (or useful) assumption. If you want to know why it is so difficult for your clients to change, make a list of the things that you keep meaning to change about yourself!
If you can't provide your clients with compelling reasons to go through difficult, sometimes political, and always messy change, you allow the status quo to prevent them from reaching the better results they are capable of creating.
Perceived as a Peer
Clients want to engage with a consultative salesperson who can both provide a higher-resolution lens and predict the future, but who still functions as a respected peer. The consultative salesperson's confidence in their knowledge and experience levels the playing field, generating trust and confidence from decision-makers and decision-shapers.
It is impossible to consult when you believe that your client knows more than you about the results you can help them produce, when you are subservient and servile, when you are conflict-averse, or when you are not self-assured enough to deploy your advice with confidence.
Recognized as an Industry Expert
With few exceptions, your client is always going to know more about their business than any salesperson who earns a meeting with them. The salesperson, however, needs to be an expert on the intersection of their client's business and the better results that the consultative salesperson can help them achieve.
The new competency for salespeople is business acumen. You have to know your industry, how business works, and the kind of things that you might hear on CNBC's Squawk Box each morning. You have to be equal parts businessperson and salesperson, with a heavy emphasis on the businessperson for B2B sales.

Recognizing Necessary Changes
One of differences between a consultative salesperson and one who is not quite consultative is the ability to recognize the change the client needs to make, beyond simply removing their existing partner and their solution.
The difference here provides a bright-line test: do you address the things your client must change to maximize their results, or do you just recommend swapping one partner for another? Your best advice often involves what the client needs to change in their company, not why they should buy your product.
Explaining Business Model Choices
There are competitors in every space who genuinely help their clients using contrasting business models. The models are based on the company's respective theories about what clients need and how they choose to respond to those needs.
Some choose a low-price approach, which requires the client to accept certain concessions that allow companies with the low-price model to profitably serve their clients. Other companies choose not to make those concessions and charge more for their solutions, even though the higher price can produce a lower overall cost.
By helping your contacts justify the appropriate investment in the results they need, you can prevent them from unknowingly committing to concessions that would harm their long-term results.
Managing the Sales Conversation
Buyers have a tough time deciding who to buy from and how to manage the process internally. The sales conversation in which the consultative salesperson and the prospective client engage is nonlinear, often marked by fits and starts, stalling out but later moving rapidly.
It is not often that we think of consultative selling as providing advice about how the clients should pursue the better results they want or need, but that's a critically important skill for consultative salespeople. A consultative salesperson is responsible for guiding the client through the conversations and commitments that allow them to make an effective decision about their business.
Leading Consensus-Building
While managing the overall sales process is often difficult, leading consensus-building for and with the decision-makers can be a magnitude tougher. The ability to identify the stakeholders, bring them into the conversation in a way that supports consensus, and acquire their support (or at least their consent) is definitely a higher-level skill, one that is increasingly valuable to clients who are trying to decide who they prefer as a partner.

Providing Advice
If the only advice you have to offer your prospective client is to buy your solution, you're not a consultative salesperson. The right answer comes before the right partner and the right solution—the advice you offer about the changes you believe your prospective client needs to make should be true even if they choose your competitor over you. That approach will differentiate you from your competitors and help position you as the right partner.
Sharpening Their Advice
A consultative salesperson can improve their ability to consult by being willing to learn from their clients and prospect, sharpening their own lens by integrating their clients' knowledge and experience. In doing so, they deepen their understanding of the challenges their clients face and the value of different approaches to solving them.
This learning also provides them with the ability to recognize certain patterns, so they can recognize the difference between the presenting problem and the root cause. Most salespeople don't appreciate that distinction, often leaving their clients' real challenges unaddressed.
Do Good Work
What insights can you share with your prospective clients that will provide them with a better view of their business and their challenges?
What changes do your clients need to make to produce better results, aside from buying your solution?
What advice do you provide your clients and prospects about how they should go about making decisions?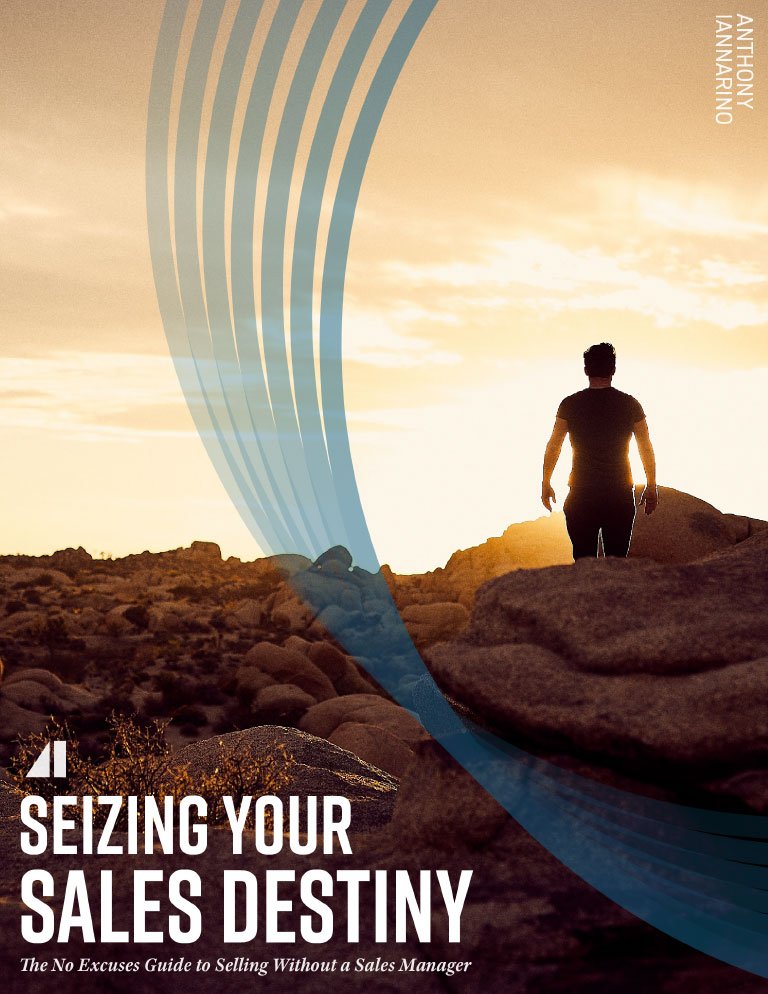 Get the Free eBook!
Learn how to sell without a sales manager. Download my free eBook!
You need to make sales. You need help now. We've got you covered. This eBook will help you Seize Your Sales Destiny, with or without a manager.
Download Now