How effective is video training? Pretty darn effective, it turns out. Learners remember an average of only 10% of the content they learn by reading, but up to 95% of content they learn audio-visually.
Your sales training budget is finite. When considering the sales training you want to offer for your team, price is a considerable factor. So, when it comes to the question of saving cash, you know that a video training program is going to run you less than paying an expert to fly in, renting a large conference space, and hiring a catered lunch for everyone. But what about ROI: Can you get results and increase sales effectiveness from sales training videos?
You can get excellent sales training from a video. This post will examine a few sales training videos I think might help your team find success.
Do Sales Training Videos Actually Work?
Back in 2019, there were a lot of things the business world didn't think could be done over video. Then, in early 2020, COVID-19 swept over the world and forced us to be a little more creative—and a little more open-minded—about the way we do business.
RELATED READ: How to Stop Settling for Pandemic Results
We learned that many jobs could be done remotely when previously that was thought impossible. Many people also learned something I've known for a long time: Sales training videos and online sales training programs can be just as effective as on-site training.
I would not have believed the power of video training if I hadn't experienced first myself as a consumer. Because I am growth-oriented, I read, listen to, and watch a lot of courses. Twelve hours before writing this post, I watched a fifty-five-minute course on content creation for social media platforms.
Video is an effective medium because the audio and video combine to make the experience close to in-person training, with the added advantage of being able to consume the content multiple times on your own schedule, increasing your comprehension and retention. With the recent addition of live virtual training, the cost of training is much lower than in-person, allowing you to train your team more often, increasing their exposure to new skills and competencies.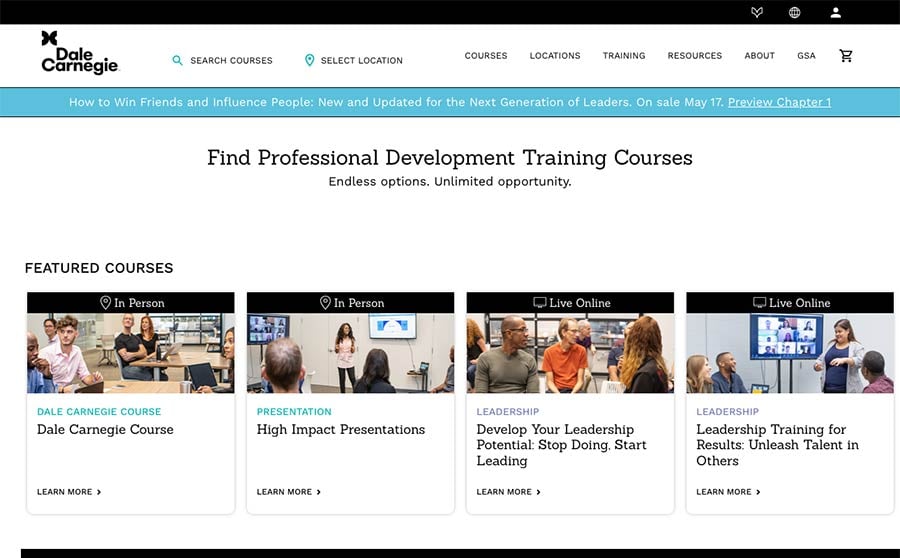 Dale Carnegie's Live Online sales training covers topics like sincerity in selling, changes in sales techniques for the modern age, and establishing trust in sales. You will also learn skills like time management, leadership, and how to offer value.
This course helps new salespeople because it focuses heavily on presentation skills and people skills. This focus can be helpful for new sales professionals looking to gain confidence in their new roles. The best thing about Dale Carnegie is the focus on other orientation. This strategy will help you be someone your clients want to spend time with. In other words, "To be interesting, be interested."
Of course, no training program is without its weaknesses. The main weakness of this training program is that it doesn't address some of the more complex sales scenarios B2B sales professionals encounter. Additionally, this program is pricy. The courses run close to $1,000 per attendee.
However, Carnegie's work is so principle-based that it is universal, so this course still makes our list of top sales training videos for new salespeople.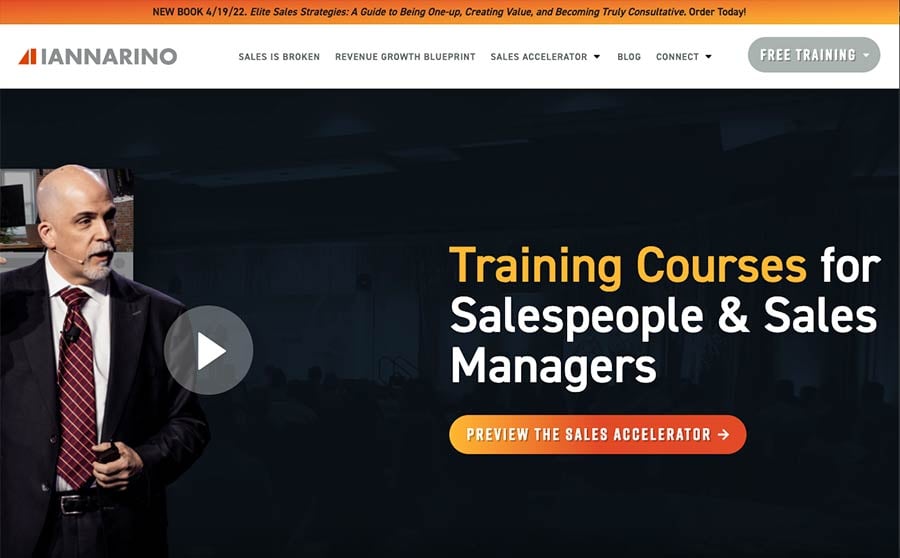 Another incredible option for sales training videos is our Sales Accelerator. The Sales Accelerator covers every aspect of the sales process, including nurturing, prospecting, presentation, and more. Additionally, you'll have the opportunity to learn leadership skills and how to build an indomitable sales mindset. Additionally, our COACH videos provide specific language choices for all different types of sales conversations, even allowing for customized content specific to your team.
The Sales Accelerator helps new salespeople by providing them with a clear roadmap to success. We give them a foundation of knowledge and the support they need to apply it successfully.
The main downside of our program is the volume of content. It can be overwhelming for new salespeople to navigate through the amount of content on our platform. Most people need a guided learning path to use the course to maximum effect.
B2B salespeople who need to improve their results by adopting modern strategies and tactics specifically designed to work in today's business environment are the best fit for the Sales Accelerator.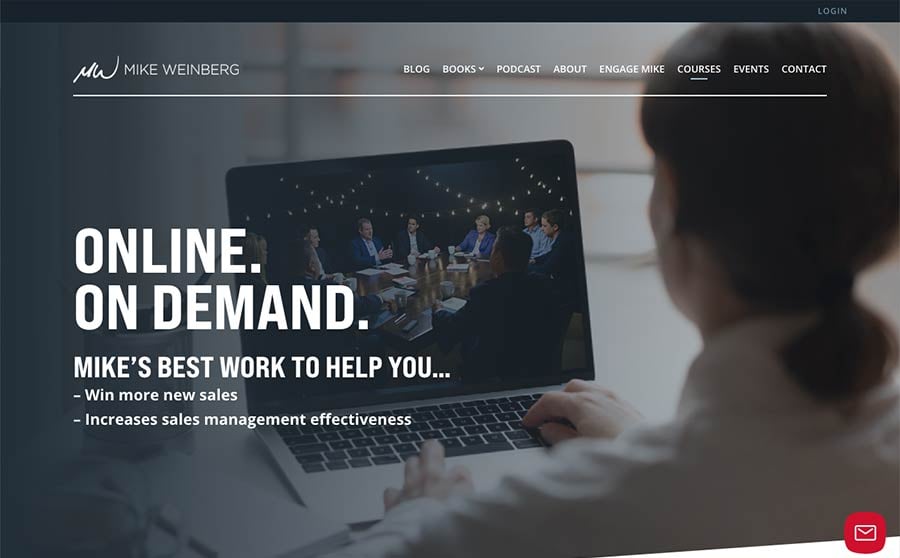 You can also use Mike Weinberg's New Sales Simplified online training program. These videos cover topics like identifying blockers in new business development, value-creation, calendar management, and how to sell with an "abundance mentality" from a full pipeline. The content is based on lessons from Weinberg's book, New Sales. Simplified.
Mike Weinberg's program helps new salespeople because it is comprehensive, providing both sales basics and specific strategies. The training is also practical, giving real-world examples and easy-to-implement tools and techniques.
One downside of New Sales Simplified: This program is also on the pricier side. The video training series runs at just under $1000 per trainee.
Mike is the best at the fundamentals and his content is right for B2B salespeople who need to get back to basics and improve their sales story. Mike is also a good friend, and I know him and his content well enough to confidently recommend it.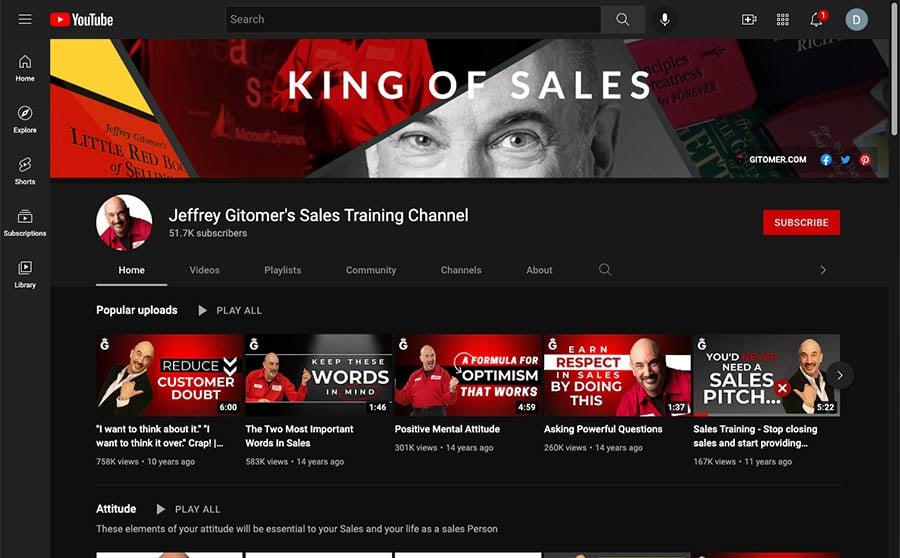 Another option for sales training—especially if you're working on a tight (or nonexistent) budget—is YouTube.
The material covered in YouTube training videos depends entirely on the video and the presenter, but with a little digging, you can find targeted material on many different sales topics, all for free on this platform.
YouTube training can help new salespeople because it's accessible and it's free. Newer sales professionals can access YouTube resources on their own time at home if needed or desired without needing to get approval or funding to sign up for training.
A downside of using YouTube for sales training is that this type of training isn't supported with any kind of supplemental reinforcement material like activities or workbooks. Additionally, the advice given through YouTube videos hasn't always been vetted, so it can be difficult to determine quality training from bad advice.
Some good places to start with YouTube training videos are the videos provided by Jeffrey Gitomer and Art Sobczak. Both Gitomer and Sobczak are friends of mine. Both are incredibly smart people with good content for salespeople. Gitomer is a legend, and Sobczak is world-class for making cold calls, something he calls "smart calling." I highly recommend both.
Achieve Maximum Success With Sales Training Videos
In-person and on-site training sessions can be effective, but sales training videos can offer the same level of effectiveness while adding the convenience of accessing the training remotely wherever you and your team are located. Bear in mind, however, that not all sales training videos are created equal.
The best sales training videos come with support, guidance, and strategy that comes from real sales professionals. I devised my Sales Accelerator with all of this in mind, striving to create an incredible sales training experience teams can access remotely and still get results.
When you work with me and my team, you'll get a tailored sales training program guaranteed to shift your team's mindset and give you all the tools you need to hit even the most aggressive of sales targets. Get started by joining the Sales Accelerator today.