The first rejection of your request for time occurs when you call your dream client to ask them for a meeting. The denial of your request is the result of offering too little value for the time you are requesting (if what you offered was valuable enough, your contact would have agreed to a meeting). Further rejections have the same root cause, no matter how pleasant the language used refuses your request.
Increasing your dream client's willingness to give you their time is a question of value creation.
Your Pitch Suggests No Value
For a very, very long time, our sisters and brothers in B2B sales have asked for meetings using certain words that suggest that the meeting will not be worth the prospective client's time. The ask sounds something like, "Good Morning. My name is John Doe, with Acme Widgets. Is now a bad time?" The question is a bit of a tie-down intended to prey on people's inherent politeness. Why you would ever ask a question that provides for a negative response is beyond me, but that's what people were taught in the 1980s.
The pitch continues, with John Doe asking for a meeting, "I am calling you to ask if I can stop by, introduce my company and share with you how we are helping companies like yours improve their widgets, and learn a little about you." The idea that one might "stop by" suggests that the salesperson has no agenda outside of talking about their company, their product, with a desperate attempt to elicit "pain points" when all else fails.
A better approach would be one based on value creation, where John might say, "Good afternoon. My name is John Doe, and I am an Account Executive with Acme Widgets. I am calling you today to ask you for a 20-minute meeting to share with you our executive-briefing on the five trends that we see having the biggest impact on businesse who use widgets over the next eighteen to twenty-four months. Even if there is no next step, I'll leave you with our report, and I am certain you'll want to share with your team and have a conversation about what you might do in the coming months. What does Thursday look like for a 20-minute meeting?"
If the first conversation isn't valuable, why would your dream client believe further discussions would be any better?
Business Acumen and Situational Knowledge
Assume, if you will, that the contact that you are meeting with is giving you an audition. Their evaluation is designed to determine whether or not they believe you might be someone who can help them achieve better results and who might make an excellent longterm partner for their business.
The reason a client says no to a next meeting is that they don't believe it benefits them to give you their time. When prospects say things like, "We don't like to meet with salespeople," what they are saying is that they don't like to meet with "some" salespeople, namely salespeople who "stop by," "check-in," "waste time," and create no value.
In consultative sales, the value you create is your ability to provide your clients with advice on what they should do to improve their performance. To dispense your consultation, you have to possess the business acumen and situational knowledge (experience, including the background of your company) to make recommendations.
Increasing your potential client's willingness to give you their time mostly depends on how valuable your conversations are. The less you know, the more difficult it is to command another meeting. However, being a subject matter expert (or someone who is clearly on their way to becoming one) makes commitment-gaining easier by creating enough value that you can be trusted with additional time.
Controlling the Process
In The Lost Art of Closing, there are two major rules for winning deals. The first is the Trading Value rule, which says you must always trade enough value to deserve the commitment you are asking to obtain. The second rule is that it is your job to control the process, guiding your B2B buyers, contacts, and stakeholders through the process of making the right decision for their business.No more pushy sales tactics. The Lost Art of Closing shows you how to proactively lead your customer and close your sales.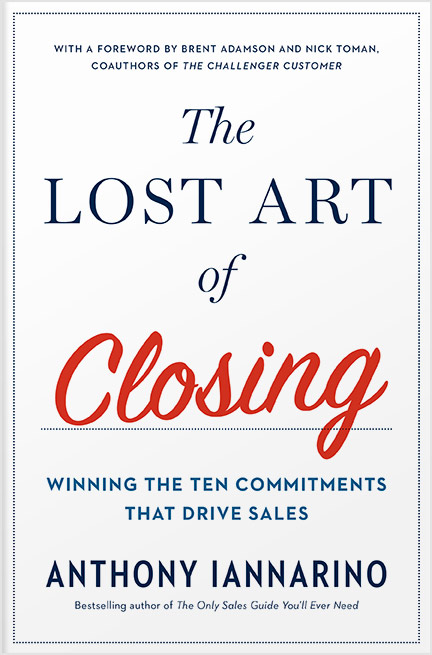 Throughout the sales conversation, your contacts will try to refuse specific meetings. For example, you might ask them to introduce you to the executive sponsor, knowing that you may need their support later, a commitment you cannot gain without passing the test that proves you are a value creator. You might also need your contact to start building a consensus around the initiative you are pursuing together. The reason your contacts reject your request is that they don't understand how doing so is valuable to them.
The likelihood of gaining a meeting is determined by your ability to explain the value of the meeting to the stakeholder. Remember their goals and objectives. Lacking the ability—or willingness—to share what comes next and why, along with the value it brings the client, is visible in your pipeline, showing up as deals that have celebrated five birthdays, that have no next step, or that you believe have stalled.
Becoming a consultative salesperson is based on your ability to help your clients make the right decisions, and that means helping them make good choices about the process of making those decisions.
You Are the Variable
The implication of everything written here comes down to this single question: "Are you worth my time?" The way to improve your contact's willingness to give you their time is to become someone who deserves it.