The old processes and methodologies salespeople successfully used start with the idea that your prospective clients are already dissatisfied and that all you have to do is get them to disclose where they need help. While there is nothing inherently wrong with this approach, it doesn't help you as much as other approaches when your prospects don't believe they are unhappy with their results and don't think they need to change.
Finding new opportunities and creating them are two different outcomes. Those who struggle to create enough new opportunities often believe that they need to find opportunities when they need to create them, something that requires a different approach.
Finding Opportunities
The idea that one is trying to "find opportunities" starts with the belief that your prospects are already unhappy and that they are open to changing their solutions and their existing partners to improve their results. The belief that your prospective clients are already compelled to change drives your approach.
The primary idea here is to ask questions that will elicit the client's existing "dissatisfaction." The question that best describes this approach is the question, "What's keeping you up at night?" This question is an attempt to fish for some "gap" you can use to start a conversation about your solution. The approach requires that you get your prospect to acknowledge some areas where they need better results.
There are still industries where this approach is valuable. There are also occasions when your contacts are well aware of their problems and are looking for someone to help them improve their results. You should not believe that because more powerful approaches sometimes replace this traditional approach, it isn't valuable. You need different approaches for different scenarios, and this approach is still available to you when it enables the right sales conversation.
This traditional approach to discovery is about eliciting the client's existing pain points, or hot buttons, or dissatisfaction. Here, you are trying to find new opportunities.
Creating Opportunities
What do you do when your dream client doesn't believe they are dissatisfied? How do you find an opportunity when your prospective client doesn't think they have any reason to explore change and that speaking with a salesperson is a waste of their time? What do you do when your contact doesn't believe there is a gap?
The world we now find ourselves in is very different from ten years ago, let alone the forty years that have passed since some of the processes and methodologies we use to sell effectively were observed and documented. Evolution tends to transcend what exists while including what is still useful, which is true about b2b sales approaches. When change is more difficult and more disruptive, when it requires more time and consensus, and when the risks are greater, you will not be likely to find opportunities. Instead, you must create them.
The realities of business now require access to a different approach, one that allows you to have a conversation about change. It opens up the possibility of exploring change and creating an opportunity. You do this by helping your clients understand why they might need to change, by showing them the future implications of their status quo and illuminating their future potential. Asking the client what they believe their existing partner might do better falls flat when the change is going to require time and energy and consensus and risk. Your contacts aren't likely looking for disruption in their business without an upside worth the effort of change.
To create new opportunities, you have to provide your clients with a higher resolution lens through which to see their business, assisting them in making decisions about the future of their business. Without the ability to show your clients why they should be compelled to change, you lack an approach that serves your client—and one that would allow you to create a new opportunity.
How to Stop Falling Behind
One of the reasons you fall behind in creating new opportunities is that you have fallen behind by not updating your sales methodologies, processes, and approach.
The new role of sales is built on creating compelling, differentiated value throughout the sales conversation, which serves the client and causes them to prefer the person who helps them understand their world, the decisions they need to make, and how best to make those decisions. The new role of sales is to provide insight and a higher resolution lens that provides a new vision of their business, potential, and future.
The ideas here are necessary for creating opportunities. When your approach to new opportunities starts with the idea that your clients are already aware of their problems and all they need to do is get them to admit their "pain," you will limit the number and quality of your opportunities. When you use an approach that allows you to shape your client's thinking and their view of their challenges in light of all the internal and external factors they haven't considered, you open the possibility of creating opportunities, improving your results. This is the only way to succeed in sales.
Not Mutually Exclusive
If you aspire to be a trusted advisor, you will need the advice to accompany the trust. One of the ways you create you the trust that your advice is sound is by demonstrating why you are offering the advice and how you came to that conclusion.
You don't have to choose between the traditional approach and a modern approach. You do have to recognize when one approach might be better than the other and how to execute the approach that most benefits your client.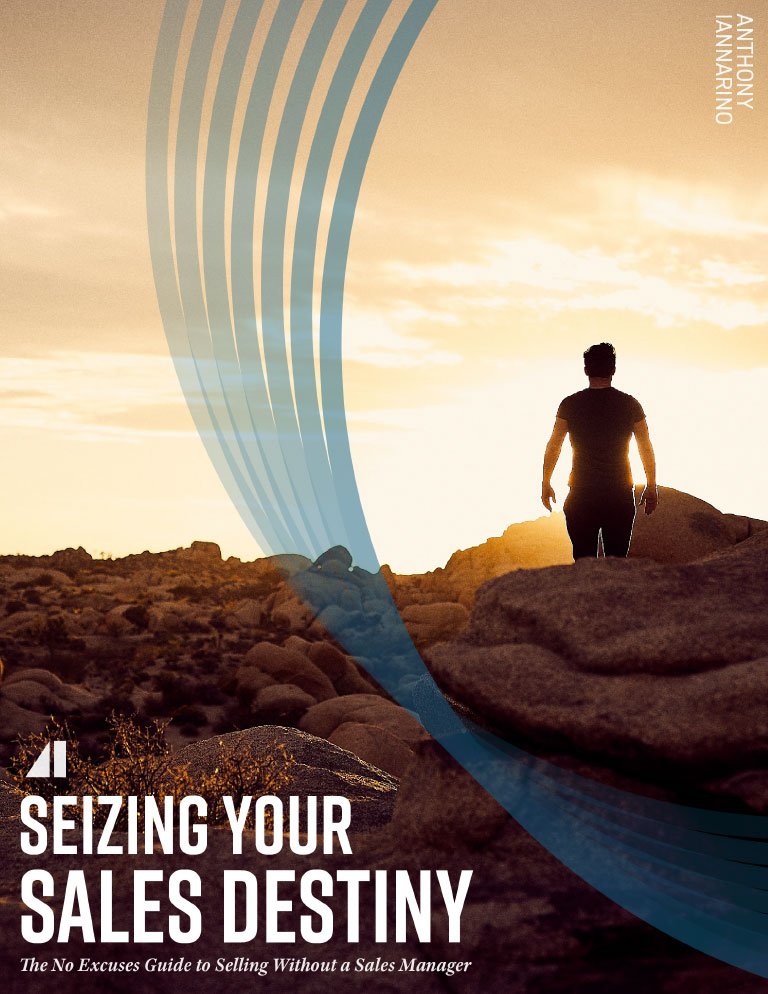 Get the Free eBook!
Learn how to sell without a sales manager. Download my free eBook!
You need to make sales. You need help now. We've got you covered. This eBook will help you Seize Your Sales Destiny, with or without a manager.
Download Now