44% of salespeople give up after one "no."
Shocked? You should be. As a sales manager, you know that persistence is fundamental to selling well. Is your sales team underperforming? With almost half of them giving up after one "no," it isn't surprising.
So what can you do? You could go back to sales fundamentals, but considering basic sales training often focuses on individual elements of the sales process, you'd be better off introducing advanced training techniques to your team.
Why? Because modern sales techniques focus on creating value at every step of the sales process and building relationships with prospects.
In this article, you'll discover why advanced sales training is crucial to crushing sales targets. Then, I'll give you my list of my five top advanced sales training programs to level up your team.
Advanced Sales Training Programs
Does sales training work? It depends. I believe it does, but only if training is one part of the development process. On top of sales training, sales professionals need to lean into behavior change and use new strategies and tactics.
Development requires time and experience, something most training doesn't consider. Basic sales training often involves a sales seminar where your team will listen to a speaker for several hours.
You can imagine how ineffective this is in changing behaviors. It's too easy for sales reps to revert to old habits and strategies.
Instead of teaching foundational skills like cold calling in isolation (which is still valuable), advanced training excels because it uses the buyer journey to create value at every step of the sales process.
What You Should Expect From Advanced Sales Training
Topics you should expect to see on advanced sales training courses include:
Mindset training: Help your team become resilient self-starters, develop a thick skin, think on their feet, and create meaningful connections.
Relationship nurturing: Help sales reps identify important prospects, nurture relationships, and lay the groundwork for amazing partnerships.
Prospecting: Create pitches that convey the idea that a meeting will be valuable for the client and build on cold calling basics.
Discovery Training: Establish the importance of planning a sales call before getting on the phone or having a face-to-face meeting.
Presentation Training: Help your team understand that the best presentation meeting is a dialogue.
Negotiation Training: Helps sales professionals learn how to close deals without using tricks or losing client trust.
Most importantly, post-training assignments are essential. There is no reason to ever train something once without repeating it until the salesperson has acquired the competency being trained. It's important to couple this with practice in the field.
Valuable and advanced training courses do exist! Let's take a look at five courses that deliver results.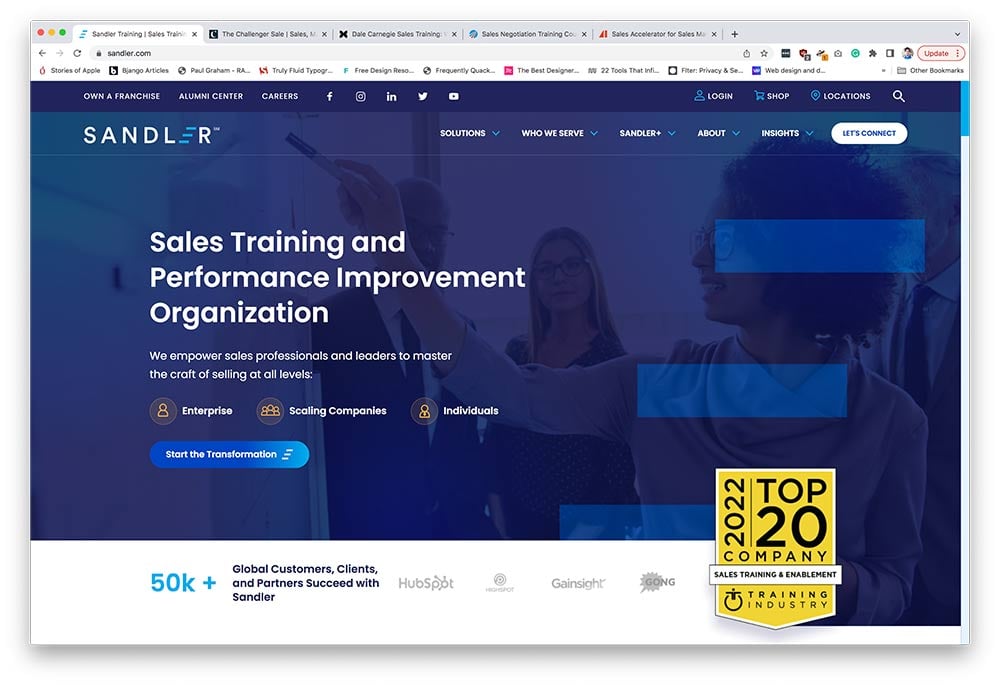 Sandler helps global teams through sales training and business development at quality and scale. Their focus is on enterprise companies, and they help sales teams face the top challenges that impact an organization's overall growth and success.
Training includes an evaluation of your current reality, sales foundations, sales mastery, sales certifications, enterprise selling, and negotiating mastery.
Pricing: Available upon request
What customers say: "Learning the Sandler methodology helps reps step back from the day-to-day selling and pipeline to reflect on skills, theory, and assess what's working and what's not." - Sandler Training User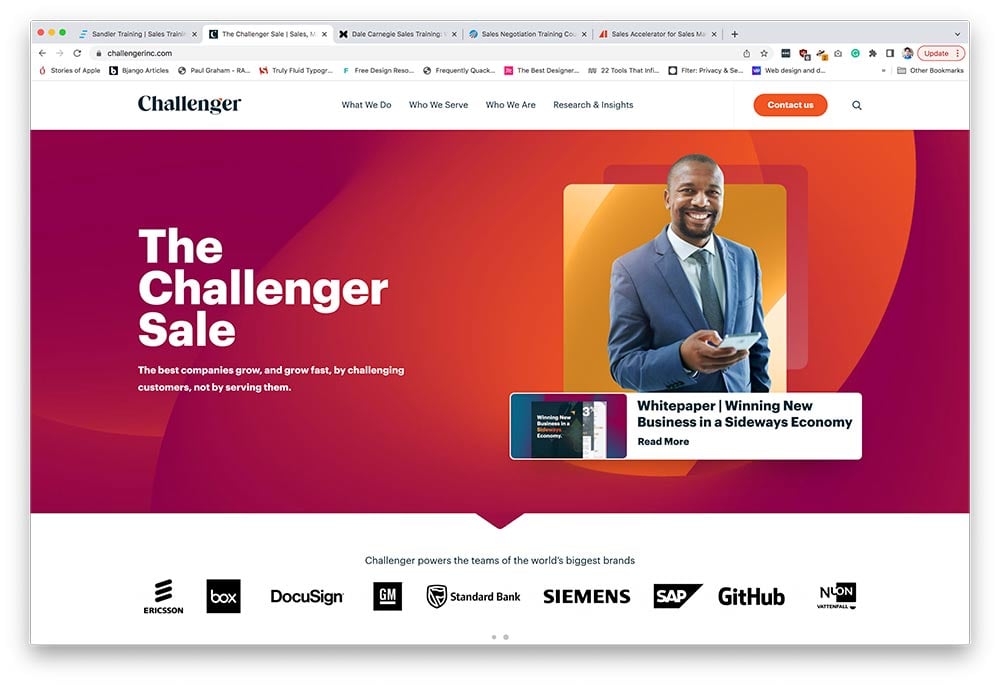 Challenger activation is a tech-enabled platform designed to support transformation around the Challenger approach. Through diagnostics, assessments, advice, tools, frameworks, coaching, and events, sales reps and teams can learn more than just fundamental skills.
Reps who learn the Challenger method will develop a profound understanding of their customer's needs and explore new ideas to motivate customers to think differently about their business.
Pricing: Available upon request
What customers say: "In our 2+ years with Challenger, we have worked with a few different Challenger analysts and consultants, and each one has been an extremely valuable resource to our organization." - Challenger Inc User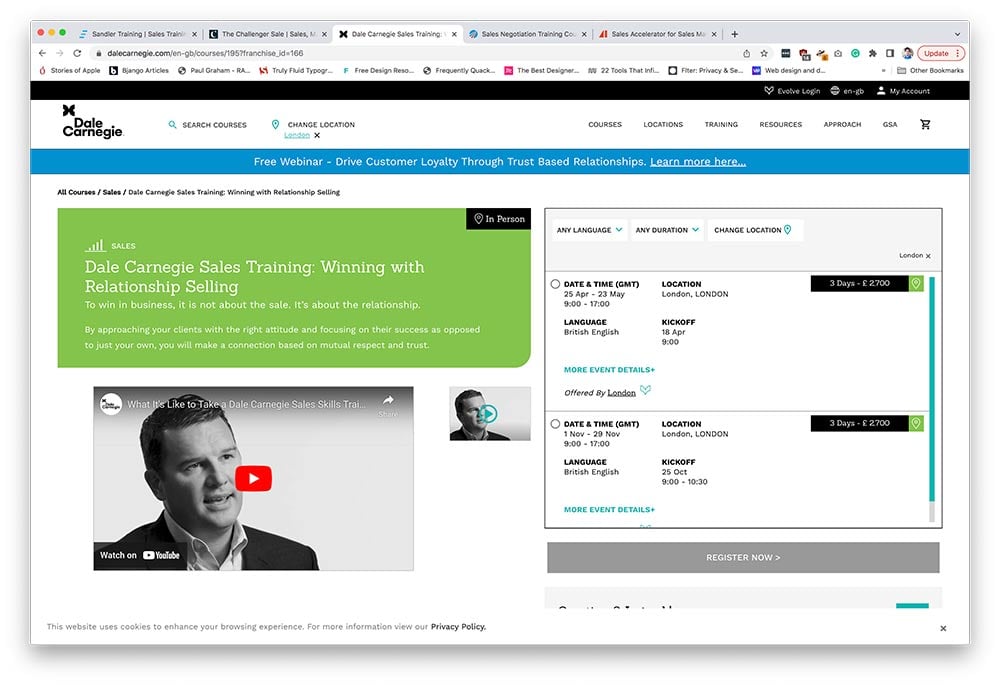 Dale Carnegie believes that winning in business is not about the sale; it's about the relationship. Their method teaches sales teams to build productive relationships built on trust and credibility.
The course objectives include sales strategies that facilitate the buying process, how to construct solutions in collaboration with customers, proven techniques to maintain relationships, and applying the Dale Carnegie Sales Model.
Pricing: It depends on the location, but you can expect to pay between $2000 and $3000.
What customers say: "The training we've done has been tremendously valuable and has contributed directly to the success of CamWest. It has definitely taken us to the next level." - Dale Carnegie User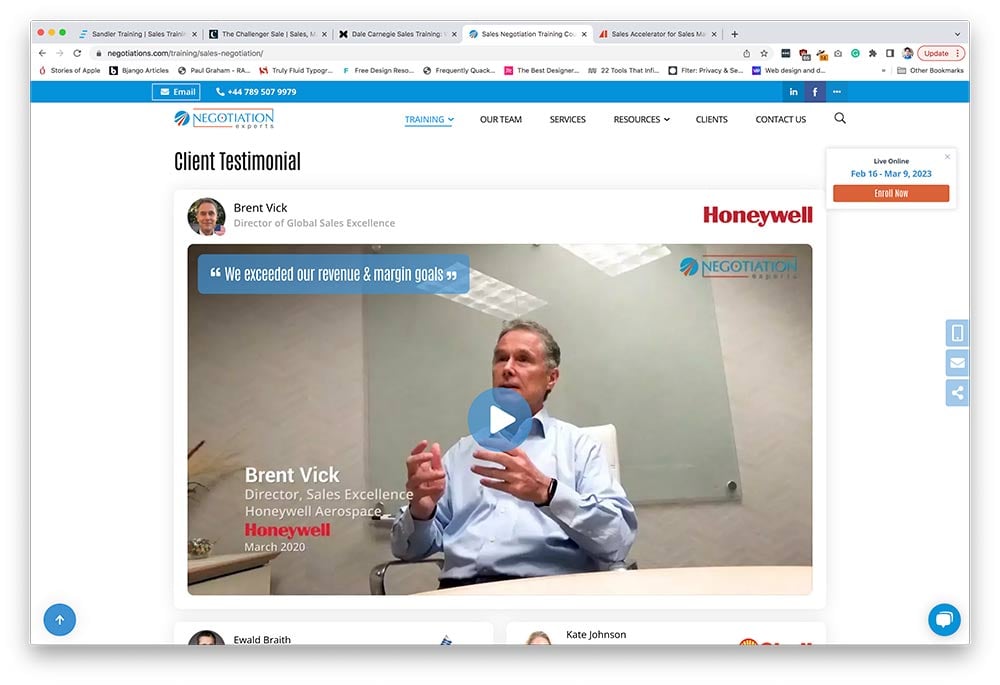 As the name suggests, Negotiation Experts consider sales negotiation the most crucial element of their courses.
They take a highly interactive approach to learning, using practical and fun simulation role plays together with feedback coaching and group discussions to accelerate development. There are six levels to training, and each can be customized for your team.
You can track sales negotiations through each level, compare progress to other colleagues to create friendly rivalries, and hone in on where your reps might need more training.
Pricing: $2,530 Per Participant
What customers say: "This is one of the best courses that I have attended. The attendees inside and outside of my team still talk about it positively, and my other team members would really like to be trained as well." - Negotiation Experts User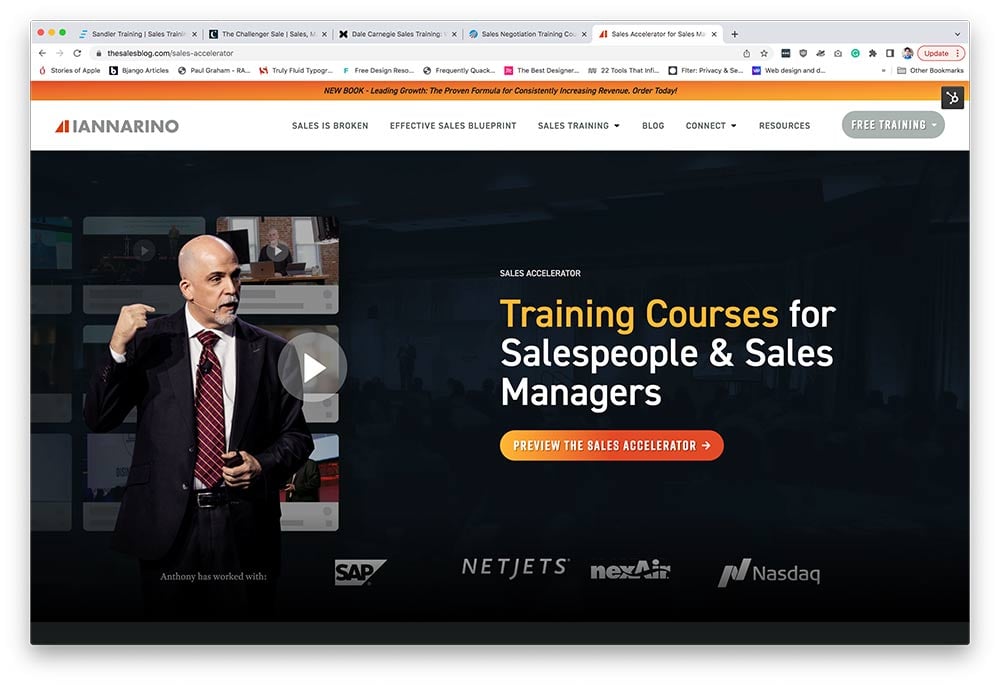 Through my Sales Accelerator programs, teams or individuals can access hundreds of lessons, scripts and workbooks, live events, and training certificates to help them develop the skills necessary to maximize sales effectiveness.
This self-paced program features guided learning paths for developing specific skill sets. Your team will learn how to create value, gain commitment from prospects, crush objections, build consensus, and master negotiations.
Pricing: $997 for a Full Year of Unlimited Access
What customers say: "I highly recommend this sales training platform. Bringing Sales Accelerator into my sales organization has allowed me to level-up several reps, improve sales engagement, and improve our conversion ratios." - Sales Accelerator User
Advanced Sales Training Programs: Beyond Training
As with all sales training, you have to go beyond learning and take action. A holistic approach is best, and sales managers who want to get the best out of their teams take a proactive approach to training.
As a sales manager, you don't need to find a way to win alone. Collaboration is critical in modern sales training.
Your sales team needs a blueprint for success to hit aggressive sales targets. With advanced training, sales reps will have the exact language to open the conversation and advance each sale.
I've dedicated 11 years to researching, developing, and testing my sales formula.
This resulted in a proven framework that enables sales managers to consistently hit aggressive sales targets through value creation, differentiation, and knowing exactly what to say to advance the sale. Let me show you the modern sales approach that enables your team to crush sales targets: The Sales Accelerator.