In October 1992, I had a grand mal seizure while walking up the steps of my Brentwood, California, apartment. It took some time for the paramedics to convince me that I needed to go to the hospital. The thing about having a seizure is that you may be the only person that doesn't know you had a seizure. When I eventually arrived at UCLA Medical Center, I was immediately given a CAT scan, followed by an MRI, an indication that there was something wrong.
A short time later, a neurosurgeon showed me the images of my brain, suggesting that I had cancer on the right frontal lobe. He explained that he would need to remove the front right lobe to ensure I could keep the left side of my brain. After he finished talking, I began my protest, asking if the large spot might be "not cancer," the only words I could come up with to avoid losing half my brain.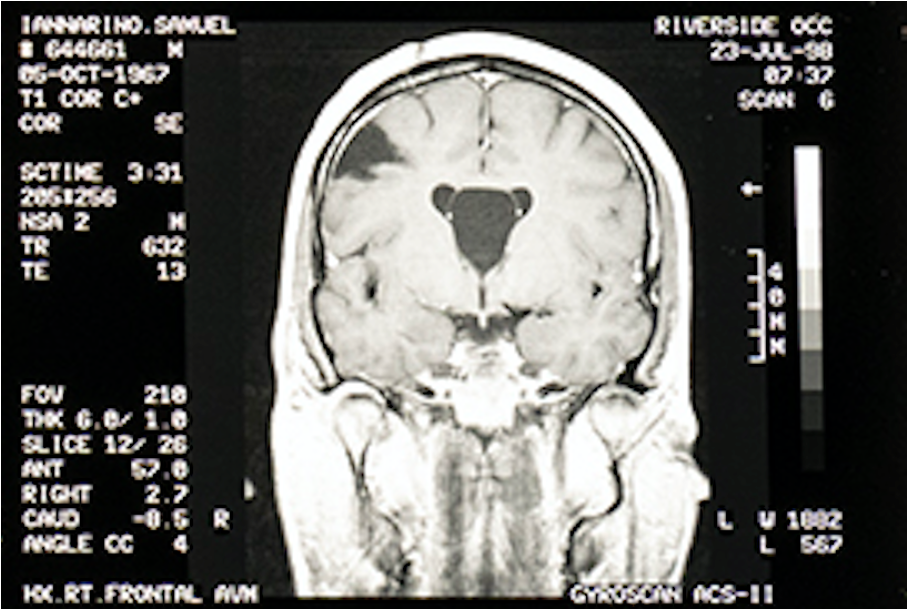 The next day, I had a procedure where a tube was placed in my femoral artery and pushed up into my brain. Once there, the doctors used a dye to take pictures to help determine what had caused my seizure and shown up on the images of my brain. Thankfully, it was not cancer. Instead, it was an arteriovenous malformation (AVM), a large cluster of arteries and veins that formed a knot.
Something about the two surgeons at UCLA didn't sit right with me. They were aggressively pushing to get my surgery on their calendars. And they told me how this surgery would be valuable to them, as they could record it and train others. By pitching me on how they would benefit, they lost me. I did not yet have the concept of One-Down, but I knew I wasn't going to let them do the surgery.
After being missing for almost two days, I called my parents. My aunt worked for a neurologist, and I flew back to Columbus, Ohio, to meet him. After our meeting, he told me to see Dr. John Tew. Dr. Tew was world-renowned and an innovator in removing AVMs. Every person I spoke to, mentioned Dr. Tew. He was infinitely One-Up. I let him open my skull and remove the AVM, and part of my brain. One week later, after two brain surgeries, one lasting 9 hours and the second taking 11 hours, my AVM was gone.
You Are Trying Out to Join Your Client's Team
When you have an issue, a problem, or a challenge, you want someone One-Up to help you. Anything else is likely to be a waste of your time. Over the last couple of months, a number of sales leaders have shared with me that their sales force has trouble converting a first meeting into a second meeting. Many who gain the commitment to a second meeting get ghosted, with the prospective client canceling, never to reschedule.
Because sales is a job, a lot of people treat it as such. When this is the case, they don't master their craft, nor do they become One-Up, which means being an industry expert, developing knowledge and experience far greater than a client could obtain. The first meeting is a tryout or an audition. It is designed to see if you look like someone they can turn to for help improving their results.
Because people are generally polite, diplomatic, and prefer to avoid conflict, they allow One-Down salespeople to go through the motions. Then, they thank them for their time and ask the salesperson to call them the following week to schedule another meeting. But the truth is that the salesperson will never see that prospective client again, unless they happen to bump into each other at the grocery store.
Why Your Client Will Buy from a One-Up Salesperson
In a transactional purchase, like buying copy paper, you don't need an expert. But when a decision is important and getting it wrong will harm the company's results, the buyer seeks someone who is One-Up. A client that understands they lack the knowledge they need to make the best decision for their company is going to look for someone who knows more about how to improve their results than they do.
The conversation with a One-Up salesperson is different than meeting with other salespeople, who try out and wash out in a single meeting. The difference is that the client finds it more valuable than conversations they've had in their search for someone to help them turn things around. A person who sounds like an expert and offers advice like a business consultant has a tremendous advantage because they are One-Up.
The One-Up salesperson can only prove themselves as such through the conversation they have with their contacts, be they decision makers, decision shapers, or other stakeholders. Because this is true, the salesperson who isn't One-Up has a difficult time getting a second meeting, making it impossible to create or win an opportunity. The reason many sales organizations fail to produce the results they need is that they are unable to provide the kind of conversation where the client feels as if they have been educated on the decision they need to make. Sadly, the typical conversation with a One-Down salesperson doesn't achieve the same results.
For a number of years, I have written about the fact that salespeople who lack business acumen and are unable to create value in the sales conversation are going to find themselves struggling to succeed in sales. Meanwhile, salespeople who become experts in their field and have a truly consultative approach are going to have an easy time succeeding. Those who believe the internet is going to eliminate the need for salespeople are right, but only as it pertains to the One-Down sales folks. The future looks like it is going to need a lot more One-Up salespeople. For a deeper dive into this idea, pick up a copy of Elite Sales Strategies: A Guide to Being One-Up, Creating Value, and Becoming Truly Consultative.